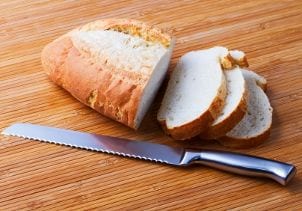 Things You Need:
Sharpening rod
Soap
Sponge
Paper towel
While most knives are easily sharpened with a cutting stone, a serrated knife requires a bit more time and skill to sharpen. Instead of sending your serrated cutlery to a professional for sharpening, why not learn how to sharpen knives yourself? Read on for instructions on sharpening serrated knives at home.
Sharpening Serrated Knifes:

Clean your serrated knife. Ideally, there should be no rust or brown spots on your serrated knife. Any knives with inconsistencies in the metal should be thrown away. Clean your knife sets with dish soap and water and dry them thoroughly with a clean towel before you sharpen knives.

Clean your knife-sharpening rod. Use a soapy sponge or paper towel to wipe the knife-sharpening rod up and down. Then rinse the blade with water and dry it with a clean towel. You'll want to use the best knife sharpener, with a fine or extra-fine grit, to properly sharpen knives. A kitchen knife sharpener with a tapered point will match the wide and narrow serrations of your knives.

Press the sharpening rod into the first divot in the knife, starting at the handle. The round shape of the sharpening rod should fit snugly into the curve of the first divot of your serrated cutlery. Rub the serrated knife back and forth against the knife-sharpening rod as you hold the knife steady. Continue rubbing back and forth for about ten seconds. It is important to keep even the best knife sharpener perpendicular to the divots when you're learning how to sharpen knives and with subsequent sharpening.

Repeat step three with each divot in the knife until you have sharpened each serrated area. The process of sharpening serrated knives will take significantly longer than sharpening a regular knife, and each divot in the knife should be sharpened with care.

Clean the knife with a soapy sponge or paper towel. Then rinse thoroughly with water and dry with a clean towel. The sharpened knife is ready to use.

Buy Cutlery
Back to Guides Directory