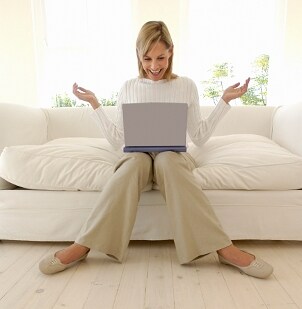 Things You Need:
Computer
Webcam
Internet connection
Modern cell phones have become more like computers all the time. You've probably wondered if the opposite is possible: using your computer to make phone calls. You can, and what's even more amazing is that you can make video conference calls. Video conferencing used to be something you could only see in movies or on TV. Today, video conferencing is a reality, thanks to high-speed Internet and Webcam technology. With a computer, some free software and a Webcam, you can get a group of people together for a video conference across time zones. Follow these simple steps and you'll be video conferencing with friends, family and colleagues in just a few minutes.
Setting Up a Video Conference:

Install your Webcam and microphone. If you haven't already, plug your Webcam into your computer's USB port. If it comes with an installation CD, insert it into your disc drive and install any necessary software. Test your Webcam to be sure it's functioning properly. If your Webcam includes a built-in microphone, you're ready to move on. Otherwise, plug in and install your microphone to use with your Web camera as well.

Install video conferencing software. Also known as "voice over internet protocol," VoIP software will help you connect to other VoIP users for voice calls and video conferencing.




If you're a casual user, you can download a simple video conferencing program for free. There are a lot of programs out there, so be sure that you only download from Websites you know you can trust. If you need more heavy-duty software for the office and want to video conference with more than two or three callers, you can invest in some higher quality video conferencing software that has advanced features.

Make sure that other parties involved in the video conference have downloaded and installed the same video conferencing software you are using.

Once you've installed video conferencing software, follow the software instructions to set up your own profile and find other contacts that you wish to video conference with.

Invite a friend or colleague to a video conference. Select one of your contacts to make a test video conference call. If your Webcam and video conferencing software are properly installed, you should have clear video and audio with everyone on the video conference call.
Video Conferencing Tips:

Test the system before starting a video conference call. Check your room's lighting, seating and the position of the microphone or Webcam. If you run into trouble, consult your VoIP software's troubleshooting guide.

It's helpful have a mobile phone on hand to communicate with others in the video conference, in case any problems arise.

Buy Webcams
Back to Guides Directory