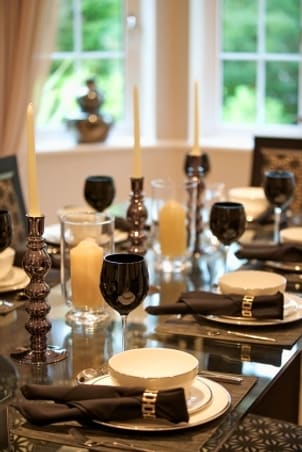 Hosting a dinner party is a lot of fun, whether you are just having friends over for a small celebration or family over to share a holiday meal. You likely already own most of the dinnerware, glasses and kitchen linens you need, and setting a dining table is a golden opportunity to use your fine kitchen linens and formal dinnerware that may have been collecting dust in your closet. While setting a table for 12 can be a bit intimidating, it is not a difficult or lengthy process, and your guests will be impressed by your hosting talents and knowledge of conventional etiquette.
Setting a Dining Table:

Table linens. Spread a tablecloth over a clean table. While a white linen tablecloth is classic for formal events, you can use any color or textile that fits the theme of your party or coordinates with your home decor. Iron the tablecloth, if needed, to give it a crisp finish with no creases or wrinkles.

Table decor. Add a centerpiece to your table. Candles, flowers or a decorative bowl filled with fruit or baubles are all gorgeous options for a stunning focal point. A centerpiece should either be low enough that your guests can see over the top of it or tall and slender enough that it doesn't obstruct anyone's view. You may want to use more than one centerpiece depending on the size and shape of the table. A round table for 12 needs only one centerpiece, but a long, rectangular table for 12 might need two or three smaller centerpieces. Your centerpiece can be as formal or casual as you choose, depending on the event.

Placemats and chargers. For a casual meal, set a placemat for each of your guests. Placemats are available in many designs, themes and materials to fit any occasion. For a formal meal, place chargers in a color that complements your theme at each seat to serve as placemats. Your dinnerware will go directly on top of the placemats or chargers.

Place settings. Place the dinner plates directly in front of each chair. Lay out the flatware with the fork(s) on the left side of the plate and the knife (blade inward) on the right side of the plate. Place the spoon next to the knife. Additional forks, spoons and knives should be placed in the order they are to be used beginning on the outside and working in toward the plate.

Bread plate and water glass. Set the bread plate in the 10 o'clock position above the dinner plate and place the drinking glass above the tip of the knife.

Napkins. Fold the napkin and place it on the dinner plate. You can use a fancy fold, such as a swan or a fan, but a simple fold works just as well.

Place cards. Set a place card at each guest's plate so that he or she knows where to sit. Traditionally, the host and hostess are seated at the head and foot of the table. If there is a guest of honor, seat him to the right of the hostess. If the guest of honor is a woman, seat her to the right of the host.
Table Setting Tip:

Place cards are the perfect way to interject a bit of whimsy and personality into the setting. Instead of using paper cards, use fruit or other natural materials and write the names of the guests on the object.

Buy Dinnerware
Back to Guides Directory