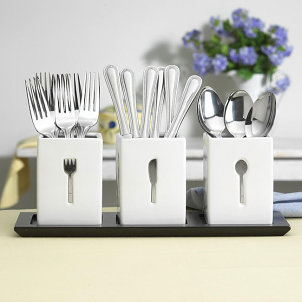 Stainless steel is the most common material for flatware. High-quality spoons, knives and forks made of stainless steel will be able to withstand regular use without bending or breaking. Although there are many different stainless steel flatware sets to choose from, some are better than others. When you focus on quality and design, you will come away with a stainless steel flatware set that will look great and last for years to come.
Selecting Flatware:

Quality. Pick a stainless steel flatware set with a high elemental content. Although stainless steel silverware is mostly comprised of steel, the presence of other metals helps determine the quality and durability of each piece. Silverware and cutlery with 18/10 on the label is the best choice; it consists of 18 percent chrome and 10 percent nickel. Anything less than this will be of lower quality.

Quantity. Evaluate how many people you want to serve with your flatware set. Although you may usually have four people eating at your home, consider whether you plan to have dinner parties or holiday dinners with a higher number of guests. Flatware sets can serve as few as four or as many as 12 people. Pick a set that will give matching spoons, forks and knives to everyone eating in your home.

Place settings. Choose a place setting that matches the kind of meals you serve. Most flatware sets have just two forks, two spoons and a knife for each place setting. Others may come with an extra spoon, a smaller third fork for appetizers or specialty cutlery. Consider purchasing a flatware set that comes with serving spoons and forks as well for dishing out food onto each guest's plate.

Style. Pick a stainless steel flatware set that matches the style of your plates, cups and bowls. There is a wide variety of sizes and shapes available for flatware. Some are sleek and minimalistic, which is perfect for modern dining designs. Others may have swirls and floral filigree for an ornate or antique feel to the design.

Buy Flatware
Back to Guides Directory