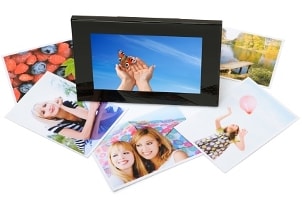 Make the most of your photographs by displaying them in a digital picture frame. With a little digital knowledge and some simple selection ideas, you can display your greatest captures in a simple, attractive digital frame. Here are some tips to help you sort through your photos and choose the right ones to include.
Choosing Digital Frame Photos:

Decide on a location for the frame. The photos you choose for your digital picture frame will largely be based on who will be viewing it and what the surrounding decor is like. For example, family photos can be used if the frame will be in the living room for all guests to see, while more personal photos may be more appropriate for a digital frame in a private office or bedroom.

Assemble photos in a theme. You can include random photographs or a series of related pictures. You can simply upload a bunch of photographs of your children or choose to include all the photos from an event. Your photos may even match a theme for the room where you will place your digital picture frame.

Adjust the quality of the photos you're using. Once you have decided what photos you want to include, make sure they match the quality that your digital picture frame is capable of. Before transferring pictures to your digital frame, consider a few file characteristics.

Digital Photo Files:

Your digital picture frame may only accept certain photo file types. You may need to use imaging software to convert photos into a form your digital frame can use.

You can also include more photos on your digital photo frame if you match the picture resolution to the native resolution of the LCD photo frame screen. If your frame resolution is 1024x768, there's no point in uploading a 10-megapixel photo. Most of the detail will be lost, and your digital picture frame will have less memory for shots.

You may want to crop photos to match the aspect ratio of your digital picture frame as well. Otherwise, your digital photo frame will display the picture with empty space on the sides.

Update your photos often. You can upload different photos to your digital picture frame for each new season or for visits from family and friends.
Digital Picture Frame Tip:

If you are giving a digital picture frame as a gift, make sure you go through all the photos once you've loaded them to make sure the photos display correctly. You can also include a USB drive to let the recipient transfer their own photos to the digital picture frame.

Buy Digital Picture Frame
Back to Guides Directory