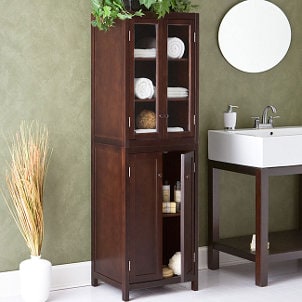 Bathrooms are one of the most-used areas in the home, so making the most of your space with bathroom cabinets only makes sense. Updating your bathroom includes everything from making cabinets more attractive to utilizing space; tidying up the towel situation benefits any bathroom. Bathroom cabinets can change the feel of a whole room, so consider the look you want and get to work!
Selecting Bathroom Cabinets:

Space: Decide how much storage space you need and weigh it against how much room you have to spare. If you choose a base cabinet (one that sits on the floor), you'll need to measure your bathroom so you know how much available floor space you have. If you're feeling ambitious, you can draw your bathroom layout to get a visual representation of where the cabinet or cabinets will go, even if you choose wall units. To sketch your bathroom, follow these steps:

Take a piece of graph paper and sketch out the basic shape of your bathroom. It doesn't have to be to scale, but it does need to be consistent (example: 1 box = 6 feet).

No bathroom is totally square, so take three measurements of each wall's corner-to-corner width: ceiling, mid-way and floor. The smallest measurement is the one to work with.

Mark out space for doors and windows. Measure from the outside edge of the trim.

Draw in cabinets and decide what size will provide the most storage space without taking up too much room.

Storage: Consider what things you want to keep in your cabinet so you can choose the bathroom cabinet that best fits your needs.

If you have a lot of bulky things, like cleaning supplies and linens, you might want a free-standing cabinet.

If you need a place to keep pills, deodorant, make-up and nail polish, then a wall-mount cabinet might be deep enough.

Styles: Cabinets are often classified into two categories: traditional and contemporary. These terms are fairly flexible, but traditional cabinets often have more detail while contemporary cabinets feature simpler lines.

Installation: Consider how much work you want to put into installing your cabinets.

Wall cabinets require you to locate the studs in your wall so you can secure the cabinet. Mark the studs lightly in pencil for easy reference.

Buy Bathroom Cabinets
Back to Guides Directory