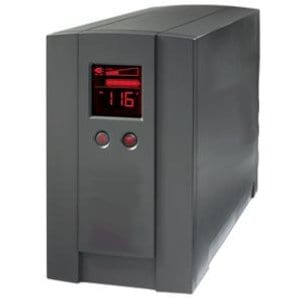 Things You Need:
Your existing computer equipment
Information about your computer's power requirements (optional)
Getting an uninterruptible power supply (UPS) for your computer is always a good investment. Anyone who has ever had a computer system damaged irreparably by a power surge, brownout or other electrical mishap knows the value of protecting your electronics. If you've ever lost any unsaved work from a power outage then the value of a battery backup should be obvious. If you've never had any of this happen to you, consider yourself lucky; power outages and other electrical events are nearly inevitable and your computer's power supply generally offers little to no protection. A UPS is an excellent way to help keep your computer and its data safe.
Selecting a UPS:

Consider your power requirements. Uninterruptible power supplies are typically rated by the maximum draw that they can handle, in either watts or volt-amps, and by the amount of time they can provide that much power. You'll probably want to determine the amount of power that your computer and monitor require as well as any other components that you would consider crucial to your computer. Of course, consider that if there's a blackout at your house, you'll likely just want to be able to save your files and shut off your computer, so most peripherals won't need to be powered.

Consider how many outlets you need. Many UPSs will offer several outlets, providing surge protection on all of them and also providing battery backup to some of them. If any of your equipment isn't already connected to a surge protector, you'll want to connect it to the surge protected outlets on the UPS.

Some UPSs can also provide electrical protection to phone lines and DSL lines. This is separate from the power connections on the DSL modem; in this case, you'll actually be plugging the phone line into the UPS and then using another phone line to connect the UPS to the "line in" or similar connection on your DSL modem. Since phone lines carry electricity and power surges over phone and DSL lines are possible, it's a good precaution to run these lines through a UPS.

Many UPSs can connect to your computer, allowing you to have some administrative control over the UPS. This connection is most often USB, but Ethernet and serial connections are possible. If you like the idea of having some administrative control over your UPS, be sure it has one of these connections.

UPSs with an administrative connection will generally also have some bundled software. (It's possible that the UPS will have a web-based administrative interface instead; in which case, you would simply use your Web browser to manage the UPS.) This software often offers some basic reporting on electrical conditions as well as information about any and all electrical problems it has seen. It may also offer an alarm for when it has been forced to run off of the battery as well as the ability to shut down your computer automatically; this is great for people who normally leave their computer on or in standby when they're away. If this type of control over your UPS sounds good to you, you'll want to make sure your UPS comes with the software to do this.

Buy Power Supplies
Back to Guides Directory