How to Select a Box Spring
by Jeanette Ponder
Published April 29, 2010 | Updated August 17, 2015
Many people underestimate the importance of a good box spring, but as the foundation of the bed, it can be just as vital to the comfort of your mattress set as the mattress. Before purchasing a box spring, it's necessary to think about size, quality and value, as well as comfort. The right box spring can make or break a mattress purchase, so shop wisely and take the time to select the box spring that's right for your bed. To select a box spring, good research and patient shopping are the keys to success.
Selecting a Box Spring: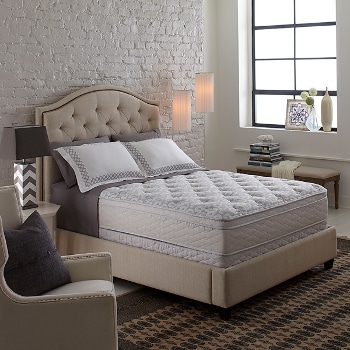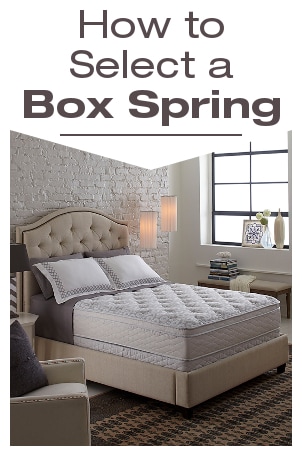 Shop Mattresses ▸
Plan for Your Desired Bed Height

Keep in mind that a box spring is part of a mattress set. You will have to deal with the total height of both the box spring and mattress. With the popularity of pillow-top and other high-profile deluxe mattresses, the average 9-inch-thick box spring can make for a very tall bed. If the mattress is tall and you do not want a taller bed, look for a low-profile box spring that will keep the bed at a reasonable height.

Keep Measurements in Mind

Unlike a mattress, a box spring can't be squished into submission to fit through narrow halls and doorways. For large beds, It may be necessary to purchase a two-piece split box spring instead of a one-piece box spring. Unfortunately, a split box spring does cost slightly more than the usual one-piece model. However, the ease of movement more than makes up for this extra expenditure, and you may also have no choice, depending on the layout of your home. A split box spring will require support in the center of the bed frame, so check to see if your bed frame will accommodate this type of box spring.

Select Materials That Suit Your Lifestyle

These days, bed springs come in all sorts of varieties, with densely packed coils, hypoallergenic or organic fabrics, natural fillers, and other options. If there's a large price difference between two box springs that look very similar, read the fine print; there could be major variations in spring type, fibers, or other parts of the box spring.

Don't Overlook the Included Box Spring

Always take a good look at the box spring that comes with the mattress. Often, manufacturers sell these combinations according to consumer popularity or as a promotional offer. With these packaged deals, it's possible to get a box spring for a significantly less amount than the full retail selling price. Plus, the combo set may be under the same warranty terms, making maintenance easy and affordable. However, you may also be getting an inferior-quality box spring.