How to Season Stainless Steel Pans
by April Sanders
Published October 2, 2009 | Updated June 12, 2015
Seasoning is a process in which you prepare a pan or other cookware before you use it for the first time. When you season stainless steel pots and pans, you are filling the pores of the pan's surface with carbonized oil, which blocks the oxidation process and therefore keeps the cookware from rusting or pitting. In addition, seasoning helps to prevent food from sticking to the pan. The following steps will teach you how to season and protect your stainless steel pots and pans, so they will last longer and work better.
Seasoning Stainless Steel Pans: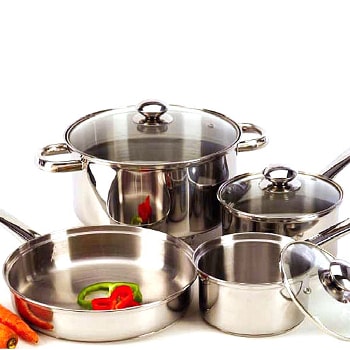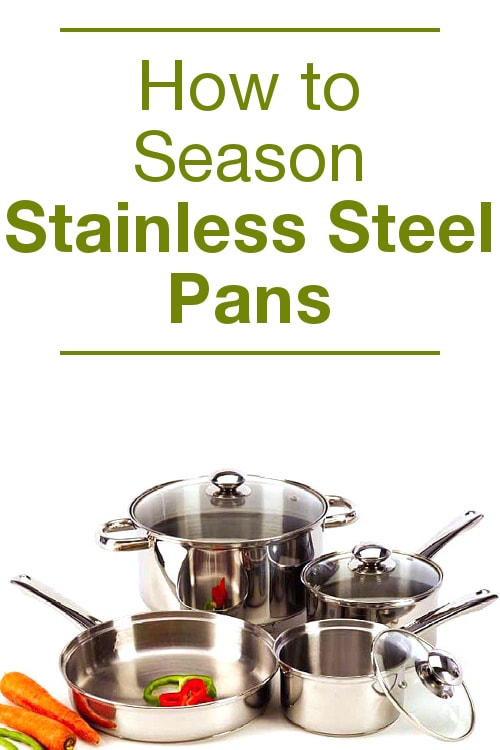 Shop Stainless Steel Pots & Pans ▸
Things You'll Need
Stainless steel cookware
Paper towels
Dish soap
Stove or oven
Wash the Pan

Wash your new stainless steel pan thoroughly to remove any packing residue. Use hot water and soap and let the pan dry thoroughly.

Coat with Oil

Coat your pan to the rim with vegetable oil. Peanut oil is one of the best oils to season with as it has a high smoking point. Use your fingers to spread the oil thoroughly around the pan.

Heat the Oiled Pan

You can do this on the stove top or in an oven. On the stove, heat the pan on medium heat until the oil starts smoking. Or, heat the pan in the oven at 350 degrees Fahrenheit for about an hour.

Cool the Pan

Remove the pan from the heat source. For stove-top seasoning, remove the pan from the heat when the oil starts smoking. For oven seasoning, remove the pan from the oven after an hour as passed. Let the pan cool completely before wiping the excess oil from the pan with a paper towel.

Preheat Before Each Use

When you use your seasoned cookware, make sure to heat it up well. Preheating your stainless steel pots and pans each time you use them will make sure they aren't hot and cold spots, and food will cook more evenly. You'll also get more caramelization on your food, which gives it better flavor. To preheat, warm the pan until a few drops of water will bounce across the surface. Then add your oil and heat it until you can see vapors. Reduce the heat before you add the food; to help prevent sticking, make sure the food you are cooking has been allowed to warm up to room temperature for about 15 minutes. Don't overcrowd your pan; adding too much food to the pan can make it cool down in spots.
Stainless Steel Cookware Tips
It isn't always necessary to season stainless steel pans as long as you preheat them thoroughly each time you cook with them.
Most stainless steel cookware is dishwasher safe, but hand washing with gentle dish soap will keep your pots and pans looking shiny.