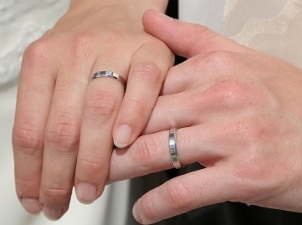 A wedding is a thrilling event, but if you aren't careful when planning one, you can easily lose control of your finances. You don't have to skip all of the dreamy details just because you are planning a wedding on a budget. Saving money on big things like wedding rings can make a huge difference. Beautiful wedding bands don't have to be expensive when you know how to shop and what to look for. Wedding jewelry is available in a variety of price ranges to suit the needs of every bride and groom, and when you shop for wedding rings on sale, you can get the rings of your dreams without going into debt.
Saving Money on Wedding Rings:

Choose affordable metals. Beautiful and quality wedding bands are available in your price range. Skip the platinum rings for now and look at sterling silver rings and gold-plated rings. This wedding jewelry is much more affordable than jewelry made of solid precious metals, but it looks the same and may last just as long.

Save money on embellishments. If you want a classic wedding band with a lot of sparkle, you may want to consider cubic zirconia embellishments. Cubic zirconias appear identical to diamonds when viewed with the naked eye, and many cubic zirconias are even more beautiful than some diamonds because they are created in a lab. You can always have cubic zirconias replaced with diamonds when money isn't so tight. If you want wedding jewelry that is a little more unique, consider gemstones such as peridot, garnet or quartz. These gems are generally more affordable than diamonds, but they look just as spectacular in wedding bands.

Look for rings on sale. Buying jewelry on sale doesn't have to be complicated. Consider stores that only sell overstocked and sale jewelry. These stores make it easy to save money on wedding rings because they don't make you wait for seasonal sales and clearance events.

Consider vintage wedding rings. Antique wedding rings may seem like the same price as new rings, but vintage jewelry is often made of more valuable materials than contemporary jewelry. If you have your heart set on a platinum wedding ring with a smattering of diamonds, you may be able to buy an estate ring with these specifications for less than a new wedding band.

Buy Wedding Rings
Back to Guides Directory