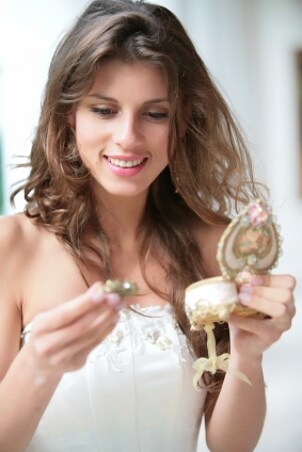 You fell in love with that antique jade ring at first sight and had to have it. But once you got it home, you realized that it doesn't match the styles of your current wardrobe. Some estate jewelry simply doesn't compare to your modern tastes, which can be frustrating, especially if your estate rings, earrings, pendants, pins, and bracelets are family heirlooms. Repurposing estate jewelry can be a lot of fun and give a piece of antique jewelry new life. Use this guide to make the most of vintage jewelry.
Repurposing Estate Jewelry:

Brooches: Ornate brooches are a lot of fun, but they can be difficult to wear with sleek dresses and tops. Wearing a brooch as a pendant is the perfect solution. Pins can easily be clipped to chains, ribbons, and long strands of pearls. Brooches look amazing in a fancy upswept hairdo; fasten a cameo brooch or a gemstone pin to a messy bun. You can also decorate your home with estate jewelry. Use a pin as an ornament on a hand towel or use two matching brooches to pin back curtains.

Rings: Ornate antique cocktail rings are fun for parties, but they may not be practical for every day. A bulky ring makes a great pendant, however. String several chunky gemstone rings onto a short necklace chain for a piece that you can wear with jeans and T-shirts.

Necklaces: Some estate necklaces go well with casual ensembles, but others may seem out of place when worn with anything other than a fancy gown. Make the most of estate necklaces by wearing them as bracelets. Some necklaces are the right length to be wrapped around your wrist several times while others will need new clasps. Jewelry clasps are easy to find; look in jewelry-making supplies for lobster clasps, toggle clasps, and spring rings.

Earrings: A pair of ornate earrings may simply be too overwhelming when worn with contemporary styles. Change an earring into a pendant or charm by removing the hook or backing and adding a split ring. Split rings easily open up and can be closed again with a pair of needle-nose pliers. Wear estate earrings as pendants and charms on necklaces and bracelets.

Bracelets: An estate bracelet can be turned into a headband or a decorative hair clip. Attach a flat bracelet to a leather headband for extra glamour or pin it onto a bun or braid with hair pins. Charms, gems, and ornaments on bracelets can also be used as decorations on other pieces of jewelry.

Buy Estate Jewelry
Back to Guides Directory