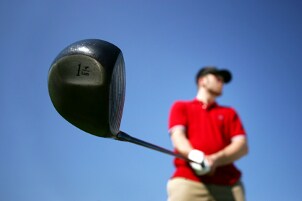 Things You Need:
Utility knife
Double-sided grip tape
Golf grips
Grip solvent
Rubbing alcohol
Rags
Your golf clubs are a big part of your game. They are the most important piece of golf equipment you own, and when you buy golf clubs, you can anticipate that they will last you many years. In order for your clubs to last that long, you have to take care of them and maintain them. One of the things that you can do is to change your own golf grips. Changing your golf grips can also greatly improve your game, giving you a better feel with your golf clubs.
Replacing Golf Grips:

Remove the old grips. Take a utility knife and make four long cuts along the length of the old golf grip. Once these cuts have been made, pull off the old grip. If the grip was already loose, it may be easy to slip off. However, if the grip is stuck, you may have to pry, pull and work it off.

Clean the shaft. Put grip solvent on the golf club to remove all the old remnants of glue and other debris that may be on the shaft of the club. Then take a wet rag and get rid of the solvent remnants on the shaft of the club. Dry the club. Alternately, saturate a clean washcloth with rubbing alcohol and wipe off the remaining solvent.

Wrap double-sided grip tape around the top of the shaft of the golf club. Start about 1/4 inch below the top of the shaft and go down about eight inches on the shaft. Flatten the tape to make sure there are no air bubbles.

Slide your new golf grip over the top of the shaft onto the grip tape. Once the grip is on the club, knead the grip with your fingers so the glue from the grip tape is activated and the grip sets properly. If the weather is dry and sunny, let the clubs set for at least three hours before using your golf clubs. If you are doing this in wet and humid weather, wait about 24 hours before using your clubs.
Tip:

Change your golf grips every 12 months if you play more than twice a week.

Buy Golf Equipment
Back to Guides Directory