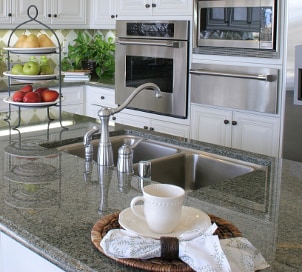 Things You Need:
Caulking adhesive
Caulking gun
Putty knife
Replacing a kitchen countertop is an easy home improvement that not only updates the look of a kitchen, but also adds value to the house. Many kitchen countertops come in standard sizes with a pre-cut hole for the sink, which allows you to simply remove the existing countertop and fit the new one before reattaching the sink. Kitchen countertops come in a variety of designs and materials, from the economical laminate to more expensive and durable granite or marble.
Replacing a Kitchen Countertop:

Disconnect sink plumbing to remove existing countertop. Shut off the water using the shut-off valve beneath the sink. Before disconnecting the sink, bleed off excess water by turning on both sink handles. Disconnect the water lines and drain line. Once you have disconnected the lines, lift the sink away from the countertop and set it aside.

Scrape away the old caulking adhesive. Use the putty knife to separate the countertop from the cabinets and the wall. Once you have removed all sealant, pull the countertop away from the cabinets. If the countertop is too large or heavy, like a granite kitchen countertop, ask a partner to help you lift it. Once the countertop is out of the way, clean any sealant residue from the top of the cabinets.

Apply caulking to the cabinets. Apply a new bead of caulking adhesive along the top of the cabinets to seal on the new countertop. Have a partner help you lift up the new countertop to place on the cabinets, ensuring a firm seal with caulking adhesive. Press down on the new kitchen countertop to be sure it attaches.

Apply caulk to seal the countertop to the wall. Apply a thin layer of caulking adhesive around the outside border of the countertop where it attaches to the wall.

Reattach the sink. Place your new or old sink into the pre-cut hole on the countertop. Connect the water and drain lines from underneath. Be sure that the lines are properly attached to avoid any dripping or water damage under the sink. Once they are connected, turn the main water line back on.





Clean up. Wipe down the countertop, sink, wall and floor with a damp rag to remove any dust or remnants of caulking adhesive that may have dripped.

Buy Home Improvement
Back to Guides Directory