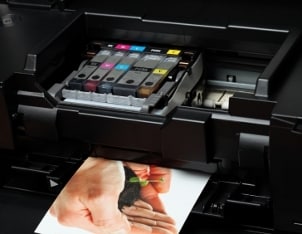 If you're looking for ways to reduce your waste and limit your impact on the environment, look no further than your home office and your printer. You can recycle many of your used devices, like cell phones, batteries, and ink cartridges. Inkjet cartridges can be refurbished and reused by the manufacturer, which keeps plastic out of landfills. Follow these steps to get on your way to greener printing.
Recycling Ink Cartridges:

Refill your inkjet cartridges. Although you can't refill them indefinitely, the cartridges can be refilled a few times. Look for ink refill kits that are compatible with your printer's inkjet cartridges. After you've reused them a few times, you'll need to recycle the cartridges.

Separate e-waste to be recycled. Separating used electronics and ink cartridges is just as easy as separating your paper, glass, and plastic for recycling. If your neighborhood has a recycling program, they may not accept e-waste like batteries and ink cartridges, so you may need to keep those separate from other recyclables. Keep a designated box or bin for ink cartridges and other e-waste in a desk drawer or closet in your home office. If you have a place to put your e-waste ahead of time, you'll be more likely to recycle it.

Store used cartridges properly. There may still be some residual ink inside your ink cartridge after you remove it from your printer. Place used printer ink cartridges in water-tight containers or bags so the residual ink won't leak and stain carpet, furniture, or clothing. (If you're recycling batteries along with your ink cartridges and other waste, keep the batteries in a glass jar or metal container. Corroded batteries can leak, releasing toxins.)

Check for return programs. Some printer cartridge manufacturers will include return instructions, and even prepaid mailers, inside the ink cartridge box. Be sure to save these materials, and follow the instructions to return your used ink cartridges.

Search for recycling in your area. If it's inconvenient or impossible to send the printer cartridges to the manufacturer, look for local recycling options. Many organizations will accept recyclable e-waste, like ink cartridges. These organizations may even be able to make money by recycling ink cartridges that help support the program. Check Earth911.com to find places near you that will be convenient for you to drop off used ink cartridges, batteries, and electronics.
What Do You Want to Do Next?

Shop Ink Refill Kits
Shop Inkjet Cartridges
See All Printer Accessories
See All Guides
Read More Go Green Guides
Learn How Overstock.com is Going Green