How to Put on a Duvet Cover by Yourself
by Gigi Starr

Putting on a duvet cover is a fast, simple process, even though it may seem potentially troublesome. If you do it correctly, the duvet will lie flat inside the cover, free of wrinkles and bunching. All the process takes is some pulling and shaking; no tricky folding or awkward stuffing is necessary. Fasten the buttons or snaps, and your new duvet cover will be ready for plenty of use. Look below to learn precisely how to put on a duvet cover by yourself.
Putting on a Duvet Cover: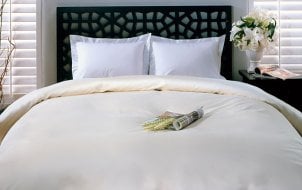 Shop Duvet Cover ▸
Spread out the duvet.

Spread the duvet out on the bed, keeping the top corners within easy reach and the bottom opening nearest you. Use a duvet that matches the size of your comforter for the best fit.

Open the duvet cover.

Open all duvet cover closures to ensure that no buttons pop during the process. Shake out the cover so that it's flat and free of most wrinkles. Most small wrinkles will wear out in a day of two of use.

Turn the duvet cover inside out.

Turn the duvet cover completely inside out. Reaching up into the now inverted cover, grasp the corners from the inside. The cover should be bunched up around your arms.

Grab the duvet.

Grab the top two corners of the duvet through the duvet cover. Holding them securely, lift the duvet up as high as possible and shake it downward, over the comforter.

Set it down.

Carefully set the half-filled duvet down on a flat surface, being careful not to disrupt the already filled section. Pull the rest of the duvet cover down to cover the bottom of the comforter and fit the remaining two corners into the cover.

Put it on your bed.

Position the duvet on your bed, straightening out any bunched sections along the edges. Fasten the bottom closures to finish.

For best results, press the duvet cover before putting it on. This will make the process a lot easier and will yield a neater-looking product.

If you have a feather or down comforter, shake the duvet lightly every day to distribute the comforter contents.