How to Protect Wood Floors with Area Rugs
by Amanda Mears
Published February 3, 2012 | Updated March 27, 2015
The easiest way to protect wood floors from scratches and wear is to decorate with an area rug. Area rugs stylishly prevent furniture from leaving marks and can shield floors from overzealous pets. To ensure that your floors stay scratch-free, follow these steps.
Area Rugs for Protection: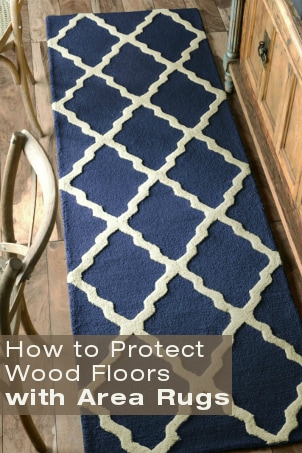 Shop Area Rugs ▸
Remove scratches and dirt before placing a rug.

Walking on an area rug that has been placed over a dirty floor can grind the dirt, dust and sand into the wood. To prepare your floor, sweep and mop the entire area. Fix scratches before laying your rug down to ensure pristine floors when it's time to remove the rug. To fix any cosmetic scratches in your wood flooring, first rub fine steel wool over the area in the direction of the grain. Remove the dust and fill the scratch with wood wax in the same shade or wood filler. Sand until smooth and clear the dust again. Once this is done, seal the wood and wait for it to dry before putting down your rug.

Use runner rugs in high traffic areas.

If you have wood floors in your hallways -- especially leading to your front door or garage -- then you know the flooring gets a lot of wear. A runner rug will keep shoes from leaving marks when you're entering and exiting your home.

Place oversized area rugs in large rooms.

While it can look nice to have a smaller area rugs that just covers the floor in a seating area, if you want to protect the wood flooring in a larger area, you're going to need a larger rug. Oversized rugs are large enough that they may reach all the ways to the walls, depending on the room.

Pick the right pile.

If you're covering your wood floor with a rug, you'll want to make sure that the room is still functional. If you're placing a rug in an office, make sure it has a low pile that won't interfere with a rolling office chair. The best rugs for rooms with heavy furniture, like a living room, are high-pile rugs because they are less susceptible to dents and can be easily fluffed when you rearrange furniture.

Place a non-skid pad under the rug.

If your rug has a rough finish on the bottom, it can gradually scratch wood floors. Provide a barrier between your rug and the floor with a non-slip rug pad. In places where you do the most walking or standing, choose a carpet pad with a little bit of extra cushioning. For flat-weave rugs, try a duel-sided felt rug pad that reduces slippage and is discreet under thin rugs. Synthetic rubber pads are the most inexpensive option and can easily be trimmed with scissors to fit a rug with an irregular shape.