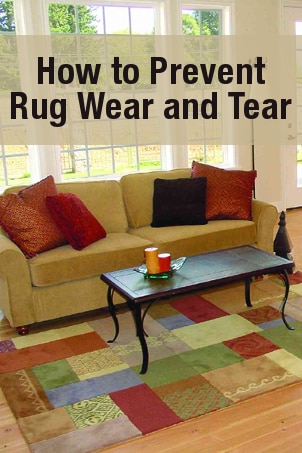 Once you have found the perfect area rug, you'll want it stay looking great for years. Proper care is the key to extending its life. These steps will help you maintain your rug with the care it needs.
Preserve Your Rugs:

Vacuum every week. To prevent dirt from being pushed deeper into the fibers while vacuuming, try to vacuum in the direction of the pile. Avoid shaking out your rug instead of vacuuming it as this can increase wear and loosen fibers.

Choose the right kind of care. Before you break out the solvents or start vacuuming, consider what kind of rug you have. Always follow the manufacturer's care instructions to keep your rugs in good condition.

Rugs Needing Special Care:

Wool rugs: Learn more about cleaning these in our guide on caring for wool rugs. Rug manufacturers recommend disabling beater bars on wool rugs.

Handmade rugs: Hand-knotted or hand-tufted rugs may require special cleaning and stain-removal techniques, depending on the materials used in the rug. Rotor vacuums shouldn't be used on Persian rugs or other delicate rugs.

High-traffic rugs:

Rugs in high-traffic areas, such as hallways and family rooms, will need more frequent maintenance. It's a good idea to use rugs in these places that can handle more use, like polypropylene rugs or those labeled for indoor/outdoor use.

Purchase a non-slip rug pad to place underneath it. A rug pad protects your floor and helps it stay in place. Without the constant friction of moving around, your rug will wear more slowly and will certainly last longer. Rug pads not only improve the longevity of the rug, but they also prevent slips and falls. A non-slip rug pad will also help protect wood floors from scratches and scuffs.

Rotate your rug 180 degrees every two or three months to ensure that it is being worn evenly. This practice makes certain that the entire surface of the rug is used and endures the same amount of foot traffic. Rotate the rug away from beams of sunlight to prevent one side from fading more than the other.

Properly treat stains and spills. Never rub the stain but gently blot it, instead. Rubbing only forces the stain to penetrate further into the fibers. If you choose to use a rug cleanser, first try out the product on a small and unnoticeable area to make sure the product won't damage the rug fibers or colors. If all else fails, contact a professional cleaning company. You can learn more in our guide on cleaning area rugs.

Have it professionally cleaned. Your rug should be professionally cleaned every two years or so, depending on how much it is used. This cleaning can be performed at a dry cleaner or through a cleaning service that comes to your home.
What Do You Want to Do Next?

Shop Rug Pads
Shop Indoor/Outdoor Rugs
Shop All Area Rugs
See All Guides
Read More Home Guides
Learn More about Area Rugs