by C.M. Mackenzie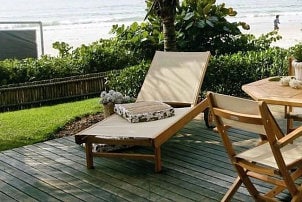 Things You Need:
Dusting cloths
Bucket
Water
Sponges
Mild liquid soap
Garden hose
Oil soap
Lubricating oil
Weatherproofing spray
Patio furniture requires a bit of early springtime maintenance to look its best for the new season, even if it has been stored indoors over the winter. When outdoor furniture is not used for a while, it gathers dust, even under good conditions. If stored outdoors, in a garage, or in a humid room, patio furniture may have some mildew that you'll need to scrub off. Preparing yours at the beginning of the season will help protect it from the weather and keep it looking great all season long.
Preparing Patio Furniture:

Dust: Unfold and set up all patio chairs, tables, and umbrellas. Dust the outdoor furniture with a dusting cloth.

Wash: Fill a large bucket with warm water and mild liquid soap (dishwashing liquid or baby shampoo work well). Wet a sponge and wipe down all vinyl and metal furniture parts. If your outdoor furniture is canvas-covered, remove the canvas covers if possible and machine wash them. If the canvas covers are not removable, scrub them with a clean sponge and soapy water. Rinse the cleaned furniture with a garden hose.

Oil: If you have wood patio furniture, use oil soap or a factory-recommended cleaner to clean the wood.

Dry: Allow the pieces to air-dry. While it is drying, check all the hardware. Check nuts, bolts, and screws to make sure all are fastened tightly and show no corrosion. If folding chair hinges seem to stick or catch, use a lubricating spray or household oil to help them function more smoothly.

Protect: When the furniture is completely dry, spray all upholstery with an outdoor fabric weatherproofing spray. Spray wood patio furniture separately, with a waterproofing product suitable for wood.
Patio Furniture Tip:

If furniture has a musty odor even after cleaning, let it sit out in the sun. The musty odor should go away within a few days.
What Do You Want to Do Next?

Shop for Patio Furniture
See All Garden and Patio Products
See All Guides
Read More Garden and Patio Guides
Learn More about Patio Furniture