How to Place an Area Rug
by Andrea Campbell
Area rugs establish the style and color in a room, add warmth and texture, muffle sounds, and help to divide, identify, and conquer space. Area rugs also feel soothing under tired feet, keep high-traffic areas cleaner, and protect fine flooring. With all of the qualities, you'll want to start shopping for them immediately. But before you begin, be sure to read these ideas and simple rules of placement, so you can buy the right rugs and make the most of them.
Placing Area Rugs: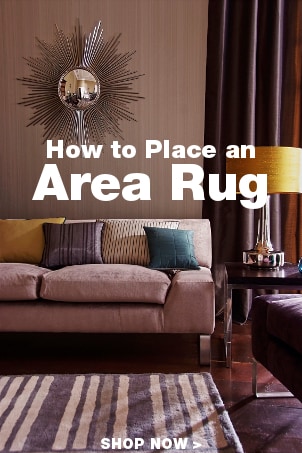 Shop Area Rugs ▸
Things You'll Need
Tape measure
Four sheets of paper
Painter's tape
Think about the ultimate function of your area rug.

Is it a focal point meant to draw attention to a decorative feature, such as a fireplace? Will the rug be used to divide spaces or act as an anchor for other furniture? For example, a rug put into a seating configuration with two chairs and a table creates a conversation area, whereas a room-size rug can disguise bad flooring or bring furniture elements together, like a dining room table and chairs.

Visualize how the area rug will fill the space by using a template.

Measure the existing rug, including fringe. Take four sheets of paper and pretend they are the four corners. Using painter's tape, place the sheets where the four corners of the rug will lie and tack them down. How does the rug fit the space? You can do this whether you are in the planning stages or even if you have existing rugs that need setting.

Use your rugs effectively by creating a simple room plan or blueprint.

It's easier to move rugs and furniture on paper than to physically haul things around. A quick sketch with approximate measurements will help you decide if the rug is large enough, if it needs furniture legs on or off the rug, and if there is enough floor space around the perimeter.

Place rugs beneath a centered coffee table.

It's acceptable for the sofa to have the two front feet on the rug itself. For larger rugs filling a living space, such as a great room or family room, perimeter furniture should be set entirely on or off the rug.

Use multiple rugs to divide or unify a room.

Create a cozy sitting area by placing a couple of chairs and a floor lamp on a small rug. Good sizes for this layout are standard 6-foot by 9-foot rugs or 5-foot by 8-foot rugs. Use accent rugs in front of a fireplace, a bookcase, or kitchen sink.

Think about layering rugs.

Layering rugs adds texture and style to a room, but it takes a bit of planning. To learn more, read our guide on the best ways to layer area rugs.
Area Rug Placement Tips
Before placing a rug, consider the location of floor vents, doors, and even electrical outlets in the floors of very large rooms. You don't want to block airflow, and doors may need to be shaved to accommodate a snag-free opening.
To protect your rug, use furniture coasters under the legs of your furniture and always use a rug pad underneath each rug. Rug pads not only extend the life your area rugs; they also keep rugs from slipping or shifting.
Stair runners should be professionally installed to ensure safety.