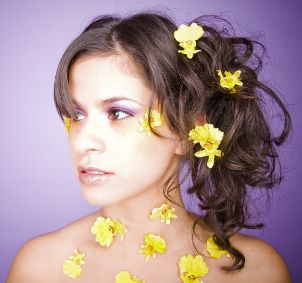 Choosing a color theme is among the first and most important elements of planning a wedding. The wedding colors will be used for various things for the event, from the decorations for the cake to the fresh flowers to the bridesmaids' dresses. Due to the number of items affected by the colors for wedding attire and decor, it's easy to see how color can determine the mood of a wedding. With the right colors, a bride can make her event appear elegant, whimsical or laid-back. Read on for tips on choosing popular wedding colors or colors that are meaningful to you.
Picking Perfect Wedding Colors:

Choose wedding colors that fit your personality. Look through the clothes in your closet and pick a color that you usually wear. Make sure to pick colors that work well with your skin tone and with your bridesmaids' coloring.

Pick colors that will match any item you feel you must have in your wedding. Such items could include a particular flower or an accessory of sentimental value, including heirloom jewelry or furniture.

Consider the color of the ceremony and reception sites. If these rooms have bold colors, pick colors for wedding attire and decor that will not clash or blend too well. For instance, if the walls of the reception hall are bright red, you probably should avoid fall wedding colors that include red and brown, which will most likely be overwhelmed by the dominant red color.

Select colors that complement the wedding attire. Pick a color that matches or complements your wedding dress, if it has colorful trim, or matches your bridesmaids' dresses if you have already chosen them. To match pink or purple sashes, spring wedding colors are appropriate, while winter wedding colors go well with pretty burgundy or dark-colored trim.

Pick colors that fit the season in which you plan to wed. Fall wedding colors include red, orange, yellow and brown, while pastels are popular spring wedding colors. Winter wedding colors, such as deep-toned burgundy, purple, grey and green, are appropriate for cool weather, and summer wedding colors are bright and cheerful.

Use tools to determine color combinations you like. Consider using a color wheel, a color fan deck or a Pantone book. Color fan decks are typically used for choosing paint colors, and the Pantone matching system is a color chart used by graphic designers.

Pick an appropriate number of colors. Although it is possible to combine three colors successfully, it will be easier to tie all elements of the wedding together with one color or two, especially when buying fresh flowers. Using more than three wedding colors, especially with summer wedding colors, will likely detract from the look you are trying to achieve. You can also use shades of one color instead of picking different colors. Popular wedding colors include shades of blue or red.

Buy Fresh Flowers
Back to Guides Directory