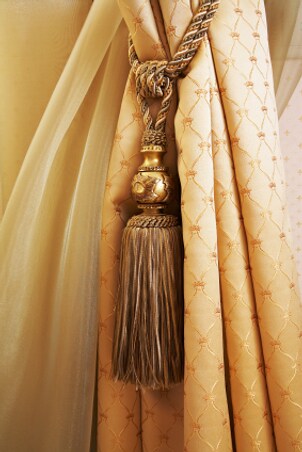 While they're an attractive alternative to traditional blinds and shades, wood blinds can be plain. However, you can easily dress up wooden blinds with additional window treatments. Whether you want to add a valance, or you simply want a more finished look that only curtains can provide, these window treatments make it easy to blend your wood blinds with any home decor.
Picking Window Treatments:

Measure the window. Before purchasing a window treatment, it is necessary to properly measure the space so that your window treatments fit your window and wood blinds. Take your measurement from the points on the window frame that you want the treatment to cover. You can extend your treatments out beyond the frame and onto the wall to make your windows seem larger, an especially good idea if you have small windows or want to display as much of your wooden window blinds as possible.

Decide on a window treatment. If you like the look of your blinds and shades but would prefer a more finished appearance that goes with other windows in your home, place a valance over the top of the window frame. You might also choose sheer panels to frame the window and show off your blinds. For windows that need a little more coverage than wood blinds can provide alone, a full drapery or curtain set may be appropriate.

Choose the fabric. You can find curtains, valances and window shades in a number of different fabrics, including silk, velvet, brocade or even simple cotton, all of which can complement wood blinds very nicely. If you have a high-traffic home with small children, select a window curtain fabric that will be easy to wash and care for. If easy-care fabric is not an issue, you have the option to select "dry clean only" fabrics to go with your wooden blinds.

Pick a design. Gather inspiration from your existing home decor when selecting the design and color of your valances or draperies. You can choose a neutral color and theme to tie in throughout your home that will show off your beautiful wood window blinds, or you can choose a contrasting color and theme to add interest. Look for a pattern that matches a sofa or ties in with the color of the carpet, or you can use a patterned window treatment to contrast with a room full of solid colors.

Buy Window Treatments
Back to Guides Directory