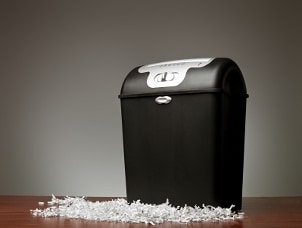 Certain office electronics are simply indispensible. Paper shredders in particular are an important part of office information security. Shredders protect the security of sensitive information and help with the disposal of documents and storage media. Anyone can select the office shredder that is best for their situation, but before you choose, take a few minutes to determine what your needs are.
Selecting a Paper Shredder:

Select the shredder size that fits your needs. A personal paper shredder is designed to run for only a few minutes at a time and shred a dozen or fewer sheets with each pass. You might keep one at your desk side for occasional shredding, but you will almost certainly need something larger to handle paper shredding for the entire office. A large office-grade paper shredder can be kept in a hallway or copy room and typically handles 30 or more normal sheets at a time.

Determine what shred level your security requires. There are several levels of shred security, ranging from 0.5-inch strips to cross-cut pieces less than a thirtieth of an inch big. Strip shredders cut paper into uniform strips, and cross-cut shredders cut along and across paper to give a confetti-like result. Strip paper shredders are faster, but cross-cut shredders offer more security and the end product is less bulky. As a general rule, the more sensitive the information, the smaller the pieces should be.

Consider the paper weight of the materials you'll be shredding. All paper shredders can shred regular bond paper, but if you have thick or glossy paper, make sure your paper shredder is designed to handle that. Many shredders are also designed to shred credit cards and CDs as well, though they may need to be sharpened more often.

Anticipate disposal issues. Consider the volume of documents your paper shredder will need to handle on a daily or weekly basis. Once your paper shredding needs advance, you may need to have a large shredder in a dedicated room of your office. You might also consider whether recycling the paper waste from shredded documents is possible for your company.
Paper Shredder Tip:

A good way to determine the size of paper shredder needed is by the number of employees. One or two employees can easily share a small paper shredder, but 20 employees may need one or two trash-bin shredders.

Buy Paper Shredders
Back to Guides Directory