How to Pick Memory Foam Mattress Topper Thickness
by Lisa Sefcik

for people who want to add comfort to their beds, a memory foam mattress topper is a smart solution. Memory foam has the unique ability to conform to the body while you sleep, relieving pressure points and resulting in less aches and pains upon waking. When you're online shopping for a attress topper, you'll need to choose the thickness you want. Be sure to consider these factors as you make your choice.
Picking Memory Foam Thickness: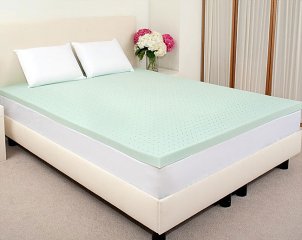 Shop Mattress Toppers ▸
Check your mattress.

Examine the condition of the existing mattress on which the topper is to be used. Memory foam mattress toppers can enhance mattress sets that are in relatively good condition by providing an extra layer of softness. However, memory foam mattress toppers might not be the right solution for mattresses that are too soft, lumpy, or have noticeable sags; mattresses in very poor condition should be replaced.

Look at the density.

Look at the density of the memory foam mattress topper. Density is the measure of the pounds of memory foam per cubic foot, and it directly impacts the level of comfort as well as the mattress topper's durability. A memory foam mattress topper with a density of 4 pounds or more will be more supportive and will offer a firmer surface. The less dense the topper, the more "give" the surface will have; if you like a softer surface, shop for a topper with a density of 2 or 3 pounds.

Think about how you sleep comfortably.

Memory foam helps prevent tossing and turning while you sleep, so the position you sleep in matters quite a bit. Since you'll be staying in that position for longer, you'll want to have the right amount of cushion in the right places. People who sleep in their sides will need more "give" for their shoulders and hips; they'll want a topper than is thinner, about 2- to 3- inches thick. Back and stomach sleepers will want a firmer surface; they'll be more comfortable with a topper that is at 3.5- 4-inches thick.

Choose an appropriate thickness.

Take into consideration the condition of your mattress, the density that sounds appealing, and the position you like to sleep in, and you should have a good idea of which thickness will work for you.