How to Pick Furniture for an Apartment
by Staff Writer
When you're picking out furniture for your apartment, there are several key things to keep in mind, especially if your apartment is small. Apartment furniture should be space-saving, functional and attractive. Attractiveness is a matter of personal taste, of course, but some furniture styles work better in an apartment setting than others. The right designs, styles and colors of furniture impart a more comfortable, open feeling to an apartment. Pick the wrong kind of apartment furniture and you'll quickly discover how important it really is. Read over this article to learn how to pick furniture for an apartment.
Picking Apartment Furniture: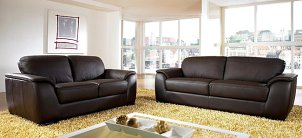 Shop Furniture ▸
Things You'll Need
Tape measure
Notebook
Pen
Measure.

Use a tape measure to measure areas where you plan to put furniture. For example, if you want to put a sofa along a particular wall in the front room, measure the length of the wall, so you'll know exactly how long the sofa can be without overlapping over furniture. Make sure to measure doorways as well. It's best to know ahead of time whether or not a new piece of apartment furniture will even fit through your doorway.

Write down all the measurements.

In order to get it right the first time, you'll want to completely avoid all types of guesswork. Keep the measurements with you when you shop. Referring back to your measurements will help ensure that you buy apartment furniture that fits perfectly. Too-small furniture looks out of place and furniture that is too big will crowd your available space.

Pick a style.

Decide what furniture style you prefer. If your apartment is small, then simple and clean designs are usually best. (Large, bulky overstuffed furniture may look nice but can make a small area feel cramped.) Apartment furniture that features multiple functions, such as a storage ottomans or an entertainment center that doubles as bookshelves, is a good choice for small living spaces. The bigger your apartment is, the more decorative furniture you can invest in.

Decide on colors.

Choose furniture that complements the color of your walls, floors and, of course, your own personal preferences. Many kinds of furniture, like ottomans, chairs and sofas, come in a variety of colors. White walls and pale carpet gets boring quickly. Richly colored upholstery in blues, emerald greens or deep reds can liven up pale rooms. Darker rooms usually benefit from light-colored furniture.

Match furniture to your other decor.

Choose furniture colors that won't clash with your artwork. If you own paintings that are alive with color, don't hang them on the wall directly above a sofa that has a busy color pattern.