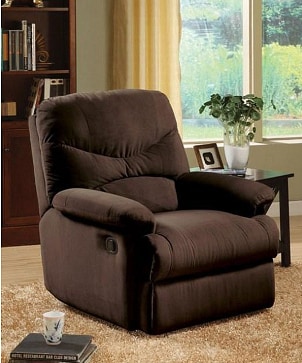 Adding a comfortable and stylish recliner in your living room is an excellent way to update your home's decor. Recliners are popular because of the incredible comfort they offer. For many people, choosing a recliner and other chairs for the living room or family room is more important than choosing any other piece of furniture. A recliner is where you really want to relax at the end of a day, so it's important to choose the right one for you. There is a wide range of styles, fabrics and options to choose from when picking a recliner, so take your time and carefully choose the perfect chair that will keep you happy and relaxed for a long time. Keep reading for steps on how to pick a recliner.
Picking a Recliner:

Set your budget. Reclining chairs come in a wide range of prices, from a few hundred dollars to over a thousand. Setting a budget will quickly narrow your options, allowing you to focus on the recliners you'll be able to purchase.

Choose the fabric. There is a wide range of options when it comes to choosing the type of fabric that will make you happiest. Recliners can be covered in leather, cotton, corduroy, microsuede and many fabrics. You'll need to try and predict what kind of life your recliner will have in order to choose the best fabric. Leather recliners are luxurious and comfortable but are more likely to be damaged by pets than other recliners. Microsuede is made from a more durable and stain-resistant fabric and also feels comfortable against your skin. In addition to fabric, you'll need to choose a pattern and color.

Decide on a style. Recliners come in many different styles and shapes, from large, overstuffed leather recliners to sleek, modern designs. Avoid mixing and matching furniture styles. Choose a style that best fits with the other furniture and accessories in your home.

Select the right size. Some recliners are huge, while others are quite compact. Measure the space where you will put your recliner. Most recliners, especially rocking recliners, need about three feet of space behind them in order to recline fully, although some chairs do not. If you skimp on available space, you may not be able to fully recline in your chair.

Consider additional options. All recliners recline, but there are swiveling and rocking recliners, too. Still others have built-in speakers, pockets, cup holders or even massaging features. The features you select will depend on your budget and personal preferences.

Buy Recliners
Back to Guides Directory