How to Pick a Down Comforter
by Nina Makofsky
Contrary to popular belief, down comforters do not just keep you warm in the depths of winter. You can find them in summer weights and variable fills, so there's a down comforter for every season and every sleeper. Down bedding comes in different levels of quality and different materials, so consider these tips before you shop.
Buying Down Comforters: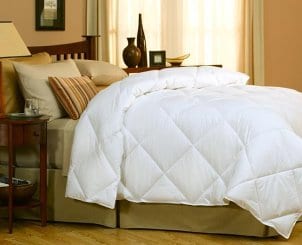 Shop Down Comforters ▸
Set a budget.

In the world of down bedding, prices range from discount to deluxe. Remember, however, that a quality down comforter, when maintained well, should last for years. You can clean, cover, and recover your comforter to keep it looking fresh and to adjust it for new decoration themes.

Fill it up.

Choose your fill power, which refers to how tightly down is packed within the comforter. While it's true that higher quality down comforters have a higher fill power, the highest fill power does not necessarily translate into the best choice for you and your home. The densest fill provides the highest level of warmth, so styles called light, summer weight, spring weight, or other such descriptors may suit you best if you want a cooler and more breathable comforter. The lightest fills make a down comforter feel as if it floats around you, while the densest fills provide top insulation.

Note the thread count.

Just like sheets and pillow cases, down comforters come in a variety of thread counts. Opt for a 400 thread count or higher if you want the luxury feeling of the softest down comforters on the market. A high thread count also blocks environmental allergens from entering the down, prevents down from escaping the comforter, and ensures the comforter's ability to weather years of use.

Look for baffle boxing.

Look for a reference to baffle box construction. A loose down comforter does not have this type of vertical seaming throughout its surface, which means that the down moves and gathers in spots, leaving other segments understuffed. Baffle box seams hold down in its respective pockets, so the fill remains consistent.

Study sizing.

Measurements for down comforters vary widely, even among traditional sizes of twin, queen, and king. Even a king-size down comforter may only go as long as the foot of the bed. If you prefer extra long comforters, look for oversized styles.
Down Comforter Tip
A down comforter can quickly lose its freshness if not protected with a duvet cover.