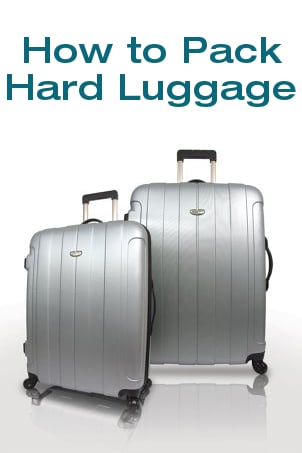 Lighten your vacation load by learning how to pack hard luggage. Hardside luggage has numerous benefits, from its ability to keep your valuables secure to the space it provides. One thing hard luggage is not is flexible, and that's why it's crucial to figure out how to maximize the space you're given. Take a look below for some handy tips.
Instructions:

Pants: Pants should line the bottom of your hard luggage. Dress pants should be folded lengthwise so that the seam on the side of the leg is showing and then folded in half. This will help pleat the front of slacks. Jeans and pants that don't wrinkle as easily can be folded in half and rolled to save space.

Shirts: Shirts should be placed in a couple of areas in your hardside luggage. Dress shirts should be buttoned and folded by bringing each sleeve to the back at the shoulder. This will ensure proper creases in the sleeves. After folding them in half, place dress shirts on top of the pants, smoothing them over. Roll your T-shirts and place them throughout the luggage, filling any open space.

Undergarments: Most undergarments can be rolled and tucked into open areas and between or around breakable items.

Shoes, socks and ties: Roll socks and place them inside shoes. Next, place the shoes along the inside edges of the suitcase. If you're using rolling hard shell luggage, place your shoes at the bottom; this will aid in weight distribution. Ties will remain wrinkle-free if they're folded once from top to bottom, covered with a piece of tissue paper and rolled. Because of their size, ties can be tucked into corners and opens spaces after all the larger items have been packed.

Toiletries: Always pack toiletries in a sealed bag to avoid leaks and damage. Then place the bag in between thick layers of clothing to keep it from being smashed.

Sweaters and jackets: Sweaters and jackets should be the last items packed, but you can also roll lighter jackets and pack them in open spaces.

View All Hardside Luggage
Back to Guides Directory