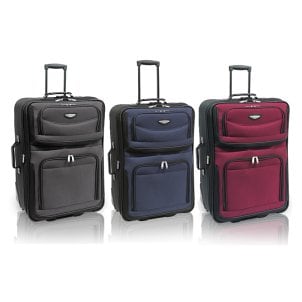 If you don't know how, packing luggage can be a troubling ordeal -- especially if you have a lot of items. Fortunately, learning how to pack a suitcase just takes a little time and practice. The process is essentially the same whether you're packing your carry-on or a luggage set, so once you have the following steps down, you'll never fear this pre-travel ritual again.
Pack Your Suitcase:

Lay everything out. Don't randomly throw things into your suitcase, as it will add to the likelihood that you'll forget something important. Instead, clear space on a bed or counter and lay out everything you plan to take in an orderly manner. Take one complete outfit for each day you'll be gone, one sleeping outfit for each night and maybe two extra outfits in case one becomes soiled. Shoes take up a lot of space in a suitcase, so consider wearing your bulkiest shoes and packing the smaller ones. Bathing suits don't take up a lot of room, but coats do. Check the weather forecast to make sure you need a coat before deciding to bring one. If your coat is very large, think about carrying it with you rather than cramming it into your bag.

Roll and fold carefully. If you take the time to roll and fold your clothes carefully, you'll find you can actually fit more of them in the case. Keep similar items together, so you don't have to dig through everything to find what you need. Be careful when packing items that may wrinkle, such as suits, and remember to bring a bag to keep your dirty clothes in.

Pack wisely. Toiletries should be either packed separately in a smaller case or double-bagged in plastic to prevent messes. If you have rolling luggage, pack the heavier items towards the bottom of the case. This will help you control the case and keep it from falling over. Light or crushable items should be carried with you rather than packed. Computers and other electronics should always be kept with you.

Leave some space. Remember to leave some space in your luggage in case you make any purchases or receive any gifts on your trip.

Buy Luggage
Back to Guides Directory