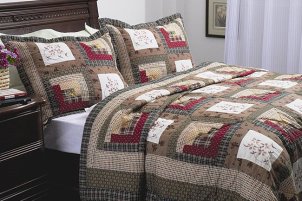 Things You Need:
Fleece sheets
Goose down comforter
Quilt
When winter creeps in, you'll welcome nothing more than a warm bed. The right bedding will help you stay comfortable while getting the rest you need. It's easy to learn how to outfit a bed for winter. Layering is the key when creating a comfortable winter haven in your bedroom, so follow the steps below to dress your bed in the coziest manner for cold weather.
Winter Bedding:

Dress the mattress in the fitted fleece sheet. Using fleece bedding will help keep the heat of the bed in. Flannel bedding is also a perfect option for sheets that will keep you warm all night long. Tuck in the top sheet in and pull it tight across the mattress.

Choose a heavyweight comforter. When picking out the best comforter for winter, consider luxurious down comforters. These trap heat and offer maximum cold protection. To add even more warmth and style, pick out a duvet to cover your comforter. Once you have picked out the perfect down or down alternative comforter and duvet, lay it on top of the bed. The comforter does not need to be tucked under the mattress. Make sure it's even on all sides so it doesn't stick out or lay lopsided.

Lay the quilt on the bed. Lay a warm quilt on top of the comforter, but don't tuck it in. Fold the top of the quilt back so it covers the bottom half of the bed. If you would rather have the quilt on display, simply use it in place of a duvet to cover your down comforter.

Place a throw blanket on the bed. Fold the throw blanket and place it on the bottom corner of the bed. A throw blanket is not only decorative; it also gives you an extra layer of warmth if you need it on cold nights.

Stack the pillows. Stack the pillows at the top of the bed. More pillows trap more heat, keeping you extra warm. Just like own comforters, down pillows can be particularly useful for cold nights because they use your body temperature to trap heat and keep you cozy.

Buy Bedding
Back to Guides Directory