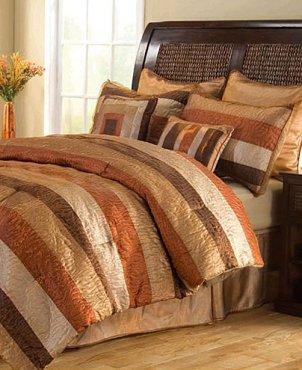 Seasonally appropriate bedding is the key to keeping your bedroom decor fresh and fabulous. In addition to aesthetic benefits, preparing bedding for summer will allow you to have cool, comfortable sleep through hot nights. From fabric to filling, bedding can play an important role in keeping you content when temperatures rise. Take a look below to learn how to outfit a bed for summer.
Buying Summer Bedding:

Get a great deal. Buy seasonal bedding off-season for the best bedroom bargains. Buy summer bedding when it is on sale and store it in a linen closet with a fresh-scented dryer sheet. That way, when the sun starts shining again you'll be able to immediately break out your scented bed linens.

Consider cotton and linen. For maximum comfort in the heat, think light linen or cotton. These sheets can bring a summery feel to bedding. Breathable linen sheets allow air to flow better than satin or silk and let you get a comfortable night's rest when temperatures heat up.

Think about white bedding. White or light-colored bedding gives you many options, as these neutral colors allow you to switch accessories with ease. Embroidered and lace linens can add accent to plain sheets. Include pillow shams and throw pillows in pastel shades for a light look.

Use a a lightweight duvet. Store your heavy duvet for the season and use a lightweight down comforter, one with a fill power below 600. You may also want to look at down alternative comforters as a replacement for your heavy winter duvet. Once you have the duvet picked out, cover it with a cotton or linen duvet cover to ensure maximum ventilation.

Add flourishes. Toss some unique throw pillows or shams worthy of display on the bed. Just don't go overboard; too much bedding during the summer can lead to hot, uncomfortable nights. Pick up a bedding ensemble with coordinating pieces for simple summer decorating.

Store winter bedding. Put winter bed linens in an airtight container to keep things clean when you pull them out again next season. Storing your unused bedding in an airtight bag will prevent damage and help your bedding last longer.

Buy Bedding
Back to Guides Directory