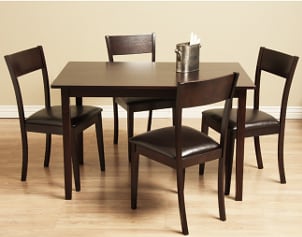 Things You Need:
Kitchen cleaner
Sponge
Paper towels
All too often, kitchen and dining room tables become a catchall for things, often because of a lack of organization and storage options. When children come home from school, the jackets and backpacks land on the kitchen table as kids head to the refrigerator. After doing several loads of laundry, clean clothes can end up on the dining room table. Mail, bills, books, phone chargers and accessories seem to migrate to this location over time. Cleaning off the dining room table can give your family back a space to come together and socialize without the presence of a TV.
Organizing Clutter:

Sit down at the dining room table. Gather each piece of paper and create three piles. Stack important paperwork and documents in the first pile. Put mail and bills that you need to keep in the second pile. Add coupons, newspaper ads or miscellaneous paperwork to the final pile. Toss any other scrap paper or wrappers in appropriate recycling bins or the garbage.

Place the paperwork from step one in specific locations. For example, place mail or bills near the phone or in a special payment folder. Put the important documents in an exclusive drawer so the information is readily available. Insert the coupons and other miscellaneous paper items into a basket in the kitchen area.

Put clothes and coats away. Fold all the clean clothes on the dining room table. Separate the clothes into piles belonging to each family member. After the clothes are in piles and folded, put them away. Laundry sorters and bins can be a nice way to keep clothes from accumulating on the table. Hang coats. A coat rack can be more convenient than a closet for hanging coats, especially for children.

Pick up the remaining miscellaneous items. Put these items in their appropriate place or throw them away. It is often the case that clutter builds on tables because there is no designated spot for the items. If phone chargers tend to collect on the dining table, you might need a charging station. Charging stations also, often, offer a place to organize your mail. Put children's toys away. If there isn't room for the toys to easily fit, more storage bins and chests might be a good solution. Place backpacks and homework near the front door or in the children's bedrooms. A storage chest or cabinet can help keep these objects from spilling into walkways. Put books on your bookcase or nightstand.

Dip a sponge in warm water. Spray kitchen cleaner on the table, scrubbing with the sponge in a circular motion. Remove any stuck-on particles, including dirt or food. Use a cloth towel to dry.
Tip:

After the table is clear, decorate it with a tablecloth and place candles or a flower arrangement on the table as a centerpiece.

Buy Storage and Organization
Back to Guides Directory