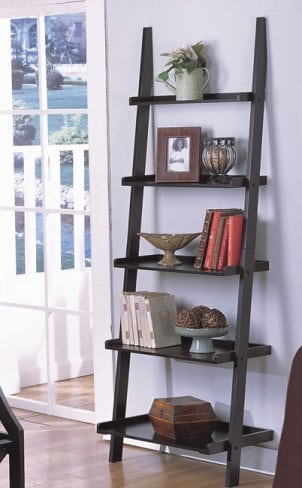 A ladder shelf is an innovative design that allows you to display decorative accessories and knickknacks in a sleek and modern fashion. Many shelves feature five tiers, with the shelves consistently getting larger toward the bottom. Use a ladder bookshelf to display accent pieces or decor in any room of the house. Look below to learn how to organize a ladder shelf.
Organizing a Ladder Shelf:

Decide on your display. Determine what items you would like to display on the ladder shelf. As with any shelf, wall units provide extra space for you to show off decorative possessions. If you have a collection of something, gather it together to place on the shelf.

Go from small to large. Place smaller items on the top shelf. Use smaller shelves for delicate items like glass figurines, as they will also be in a safer location. Glass or ornate items such as mirrors or picture frames add color and glamour to any room. Adding a collection of vintage-style picture frames can add personality to a room, and the top shelf is an ideal, safe location to store family mementos.

Keep collections together. Arrange the shelves so that all parts of a collection are kept together. This will help balance out the entire group of shelves and attract the eye toward specific colors or shapes. Place two or three books at the ends of various shelves to break up the space, but avoid placing all of the books on the same side. Lay books down on their sides to work as bookends in order to create a balance between reading books and decorative items.

Avoid uniformity. Avoid making the ladder shelf look too uniform. If you have decorative pieces that are not part of a collection, break them up into groups of odd and even numbers to place throughout the shelving unit. On one shelf, place two items, such as vases, and on the following shelf, place three items that are similar on the opposite side to create a balance.

Create extra storage. Create additional storage for the room by placing a decorative basket or chest on the largest bottom shelf. Here, you can place magazines, movies, remote controls or children's toys to keep them in a tidy location.

Buy Bookshelves
Back to Guides Directory