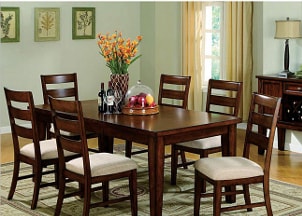 Gathering your family around the dining room furniture is a good way to spend time together. The dining room is supposed to be the room where your family meets together for a comfortable evening of dinner and conversation. In some homes, this only happens after all of the clutter on top of the dining table has been swept off and relocated onto some other piece of dining room furniture. Avoid dinner-time cleaning by organizing your dining room to create an inviting space for meals that remains clean and attractive, not cluttered and messy. Keep reading for tips and hints on how to organize a dining room.
Tips for Organizing a Dining Room:

Remove the clutter. Dining tables, with their wide, flat surfaces, are magnets for clutter, and you don't want to compete with that while eating dinner. Sort the items from your dining room furniture into piles. Once sorted, organize the items in designated bins. You'll know exactly where to find the items you're looking for once you have a working system in place. For example, you might want to place some baskets along the wall for craft supplies if you frequently use the dining room table for craft projects.

Take inventory of your items. Give away any old dishes, tablecloths, placemats or other items in the dining room that you do not frequently use. Organize the items you keep by color or style and store them neatly in the drawers of other dining room furniture, like buffets or china cabinets, for quick and easy access.

Choose the right furnishings. A dining table is a must but 12 chairs are not. Move some of the dining chairs out of the room when you don't need them, and the room will feel a lot less cluttered and much more organized. Add a china cabinet or buffet to the room for style and for storing table linens, china and flatware.

Create rules for the use of the dining room. If you allow your children to use the table for homework, for example, designate a storage space for backpacks and school supplies dropped on dining chairs that can be whisked away or hidden. This could be a hollow bench along the wall, basket or other piece of furniture that you can move from the room once homework is finished.

Buy Dining Room and Bar Furniture
Back to Guides Directory