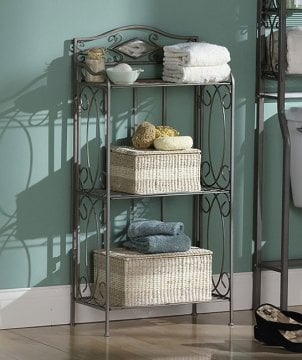 Things You Need:
Wastebasket
Shelving system
Laundry basket
Small baskets or organizing tins
Bathrooms are one of the places in the home that naturally draw clutter. Between bath accessories, makeup and dirty clothes, bathrooms can quickly become a cleaning burden. If the chaos seems overwhelming, it might be time to completely reorganize your bathroom. Fortunately, you can learn how to organize a bathroom with ease.
Organizing a Bathroom:

Take out the trash. Sort through your bath products with a wastebasket, throwing away any empty containers or expired products. Clearing unnecessary clutter can instantly revive the bathroom and motivate you to keep organizing.

Sort things out. Organize items into like piles. Sort the items into organizing bins based on how often you use them. For example, if you wear makeup every day, it should be easily accessible, while a once-monthly face mask can be tucked into the back. If you haven't used certain bath products or toiletries in over six months, toss them. Chances are you don't really need them.

Utilize space under the sink. Place toilet paper rolls and cleaning products together under the sink. If you live in a small space, it may be helpful to purchase shelves to instantly double the amount of room you have for storage under the sink. If there are small children or pets in the house, ensure that the cabinet is latched well.

Use shelves. Organize your shelving system. Fold and place bath towels, washcloths and any extra bathroom sets neatly together. This will look nice and neat, plus it will make theses linens easily accessible to guests. You can also make good use of your shelves with small decorative baskets that can hold bath accessories like perfume, travel-size products and extra bars of soap.

Pick up. Pick up any dirty clothes or used bath towels and place them in a laundry basket. Having an easily accessible laundry basket in your bathroom will help to cut down on vast amounts of clutter.

Clear out unnecessary items. If there are any items leftover in the bathroom, they probably don't belong there. Take them out and put them in their proper place or throw them away.

Update your bath decor. For a finishing touch on your newly organized bathroom, consider adding a few brightly colored bath towels or a new bath fixture. One simple, inexpensive update to your bath accessories and bath products can make a world of difference.

Buy Bath Products
Back to Guides Directory