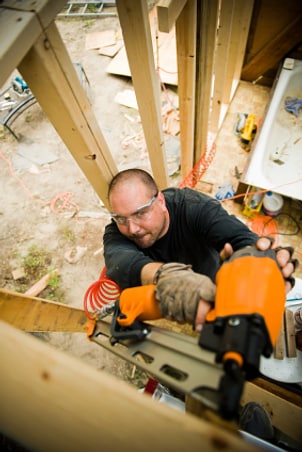 Rivet guns are used to attach two pieces of metal together. A rivet gun is one of the most versatile pieces of shop equipment you can own. Rivet guns can be used to attach gutters to your roof line or side a garden shed with corrugated metal among many other uses. The easiest style of rivet gun to use is the "pop" or "snap" rivet gun. Rivets come in different diameters and lengths, just like screws and nails. Like all air guns, power in a rivet gun is generated by air pressure.
Operating a Rivet Gun:

Practice makes perfect. Practice riveting scrap materials before riveting your actual project. Clamp scrap pieces together the same way you intend to join your actual project pieces. Use your electric or cordless 3/8 drill and titanium nitride-coated bit to drill through your scrap samples in several places.

Position the rivet gun. Place the rivet neck into the head of your rivet gun. Put the rivet in one of the holes you drilled in your sample. Press firmly against the scrap materials, as air tools have a tendency to "kick."

Pull the trigger. Make sure that there is a firm, tight bond between the two scrap pieces. There should not be any sideways movement when you attempt to jiggle them.

Rivet the real thing. Repeat these steps on your project materials once you are comfortable with the gun's operation. Tap any loose rivets with a ball peen hammer to tighten, or drill them out and repeat the process until you get a tight bond.
Tips:

Choose the right rivet size for the job. Rivets come as open or closed-end, easy entry, multi-grip, structural and high strength, among others. Open-end and easy-entry rivets are strong, cheap and come in a variety of materials.

Know what types of materials you will be joining. Use a titanium nitride-coated drill bit whose diameter is the same as the barrel of your rivet if you will be joining metal. Use any drill bit of your choice for other materials. There are eight-piece to 326-piece sets available.

Buy Air Guns
Back to Guides Directory