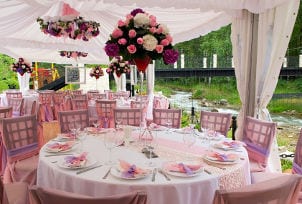 Things You Need:
Tape Measure
Tables
Camera
When you are planning a wedding, the decor will likely be one of your most important considerations. Wedding tables are often the focal point of a wedding reception. Creating wedding decorations for tables that are tasteful and inviting is an important part of the wedding planning process. Measuring wedding tables to determine the correct size for tablecloths, centerpieces and other wedding decorations will be an important detail when decorating your reception venue.
Measuring Wedding Tables:

Picture your wedding table decorations. Before you start measuring you wedding tables, it is important to have an idea of what kind of decorations you want. This is probably a part of the wedding planning process that you have already considered. Do you want long tablecloths that nearly touch the floor or shorter ones? This is called the drop, and deciding what kind of a drop you want in your wedding tablecloths will be important when taking measurements. You should also have a general theme in mind. Consider looking at wedding table centerpieces and pictures of wedding table decorations so that you are informed when you are measuring your wedding tables.

Measure for tablecloths. For round tables, measure the diameter of the table, which is the distance across the center of the circle, with a tape measure. Be sure you are measuring the fullest part of the circle. For square tables, measure the width of the table. To measure oval tables, determine the length of the table from end to end and also the measurement across center of the table. For rectangular tables, measure both the width and the length. You will then need to measure for your drop by determining the distance between the edge of the table and the exact point where you want your tablecloths to fall. Double this measurement and add it to your other measurements to determine your tablecloth size.

Measure for centerpieces. You may or may not know what types of centerpieces you are using when you go to measure your wedding tables. Either way, it is a good idea to measure your tables for centerpieces. If you have already designed your centerpieces, then write down the width or diameter of your centerpiece and take it with you when you measure your tables so you can get an idea of how much space they will require. If you have not yet designed your centerpieces, write down the measurements of your ideal centerpieces and take these numbers with you when you go to order your centerpieces or shop for supplies.

Measure for place settings. Determining how much space your place settings will take up on your wedding tables will help you to design your seating plan. Similar to measuring for centerpieces, you can measure your tables with your place setting measurements in mind or write down the ideal space for each place setting. Remember to account for table number holders, chargers and any other extra table decor.
Tips:

Don't forget about side tables and accessory tables. Tables that will hold the guestbook, extra decorations and the wedding cake may also need to be measured. Having these measurements on hand will help you when making decisions about wedding decor and accessories.

You may also find it helpful to take pictures of your wedding venue and wedding tables to go along with your measurements. You can refer to these photos when making wedding planning decisions and visualizing wedding table decor.

Buy Wedding Planning Supplies
Back to Guides Directory