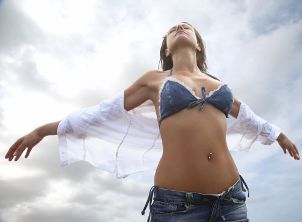 Since your brand-new swimsuit is meant to fit right against your body, choosing the right size in women's swimwear is essential. Whether you're measuring for a bikini, tankini or one-piece swimsuit, it's easy to find the size of bathing suit that will flatter your figure. Read on for tips on measuring yourself for a women's swimsuit.
Finding Your Swimsuit Size:

Measure yourself while wearing your underwear. Grab a measuring tape and stand in front of a mirror so you can easily see what you are doing as you measure for a swimsuit.

Measure your waist. Bend to one side; the crease is your natural waist. Measure your natural waist for a one-piece swimsuit or two-piece swimsuit by holding the tape snug against your body and parallel to the floor.

Measure your bust. Holding the measuring tape snug against your body and parallel to the floor again, measure around the fullest part of your bust. This step is important if you plan to buy a bikini or a two-piece swimsuit, such as a tankini.

Measure your torso. Starting at one shoulder, wrap the measuring tape down your body, between your legs and back up your back to the point where you started. If you plan to purchase a bandeau swimsuit or a tank swimsuit, you'll want to be sure that it fits you well in the torso.
Bust

33"

34"

35"

36"

38"

39"

41"

Waist

25"

26"

27"

28"

29 1/2"

31"

33"

Torso

58"

59"

60"

61 1/2"

63"

64 1/2"

66"

Suit Size

4

6

8

10

12

14

16

Small

Medium

Large

X-Large
Women's Swimsuit Tips:

Look for women's swimwear with patterned designs to create fullness where you want it; a tank swimsuit in a small pattern can also minimize problem areas. Chevron stripes (V-shaped stripes) can make anyone look slimmer. Steer clear of a bandeau swimsuit with details such as bows or logos if you're curvy, as these will draw attention to your shape.

Play with color when you're choosing a women's swimsuit. Bright colors, such as white or coral, are flattering on brown or olive skin, while a teal or turquoise bathing suit can make fair skin look darker. Wear a color block swimsuit with brown, black or navy blue patches on problem areas, such as a curvy tummy or a round bottom, to look slimmer, too.

Buy Women's Swimwear
Back to Guides Directory