How to Measure for a Sectional Sofa
by Staff Writer

Adding trendy and stylish sectional sofas to your home provides you with a comfortable place to sit at the end of the day and adds fashion to your home. A sectional sofa is a popular choice of seating for formal or casual living rooms, recreation rooms and studies. The one drawback to sectional sofas is their size. They're much larger than traditional sofas and allow for less flexibility in furniture arrangements. However, it's easy to overcome that by following these tips on How to Measure for a Sectional Sofa.
Measuring for Sectional Sofas: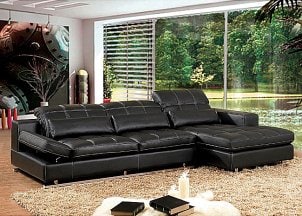 Shop Sectional Sofas ▸
Measure all dimensions.

Carefully measure the length, width and height of your living room and write down the measurements for when you go shopping. Remember to measure for various layouts and make allowances for the L-shape of the sectional. You may want to move your sectional around one day, so know in advance if another furniture arrangement is possible. Avoid "eyeballing" your measurements and instead make absolutely sure that you have enough room for a sectional sofa by getting out your tape measure.

Mark the area.

Mark off the area with masking tape. This will give you a visual image of how much space the sofa will actually occupy. Reorganize your other living room furniture around it to see if everything will fit once you add another piece of furniture. Remember to allow a path for walking around the sofa. Optimal traffic flow requires a path that is at least 2 feet wide.

Measure doorways, archways and hallways.

Measure the hallways and all other areas through which the sofa will be carried when it is delivered. Note the narrowest areas and be sure to have these measurements close by when shopping. You'd hate to have to return the sectional sofa of your dreams just because it couldn't fit through your hallway.

Shop for a sectional sofa.

Have all the measurements handy when shopping in order to double check that the sofa you choose will fit into all dimensions of your available space and not overcrowd your other living room furniture.

Remember that sectional sofas with large, bulky armrests or overstuffed cushions will allow for less seating while taking up the same amount of floor space as sofas with more streamlined designs. Keep in mind that an assembled sofa may fit through your doorways if you remove the sofa legs. Most sectional pieces can be turned upright and gently rotated through tight doorways.