How to Measure Curtains for Bay Windows
by Kate McFarlin

Before you purchase new curtains for a bay window, it is a good idea to measure the window ahead of time. Whether your house was custom designed or you have an antique bay window that is not a standard size, you can measure curtains for bay windows quickly and easily. Taking the time to measure for your window treatments will make your purchase much easier.
Measuring for Curtains: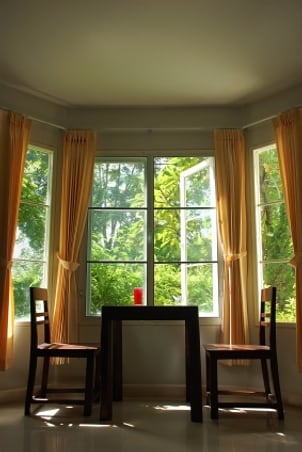 Shop Curtains ▸
Choose the placement.

Figure out where on the window frame you want to hang your curtains. Your options include installing the curtains on the wooden frame of the window itself; hanging them inside the frame, supported by tension rods; or mounting the drapery brackets on the wall outside the window frame to create the illusion of a larger window.

Measure the width.

Use a tape measure to measure the width of the each section of the bay window. Ask a friend to help you if the window is wider than your arm span. Make sure the tape measure is level for the most accurate result. If you want to hang the curtains wider than the window frame, measure to the spot where you want to install the brackets. Keep in mind that a heavy curtain bracket should be screwed into a stud beneath the drywall.

Measure the length.

Use a tape measure to measure the bay window from the top of the window frame to where you would like the end of the curtain to fall. Your options include right below the window frame or completely to the floor.

Calculate.

Decide how many panels you need to cover the window. For the finished look to be right, double the measurement. For example, if the window is 60 inches wide, you need 120 inches of curtain panel width to cover it without any gaps. Most curtain panels range in width from 40 to 60 inches and in length from 56 to 72 inches.

Customize your panels if necessary.

If you have an oddly shaped bay window, you may need to custom order curtains to fit it properly. Curtains for bay windows are in demand, however, and most manufacturers now include in-between sizes for a custom fit.