by C.D. Crowder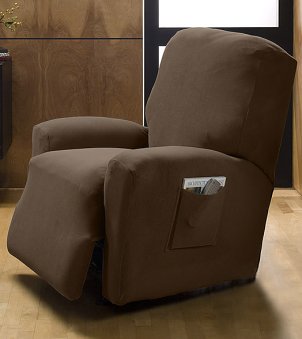 Change the look of your recliner by using a chair slipcover. You can add a slipcover to change the color of the recliner to match any decor. Recliner slipcovers are also a great way to keep your recliner clean. Should something spill on the slipcover, you can easily clean it, as slipcovers are machine washable. Due to the different varieties of recliners, you must first measure your slipcover to ensure a proper fit. This measuring technique works for recliners with attached or separate footrests. Use this article to learn how to measure a recliner for a slipcover.
Measuring for a Slipcover:

Prepare the recliner. Place the recliner in the upright position so that it is not reclining at all. This will place the recliner in its highest position.

Measure from the top. Measure the recliner's back from the top edge the bottom edge to determine its maximum height.

Measure width. Measure the width of the recliner by measuring from the outer edge of one arm to the outer edge of the other arm.

Measure in the reclined position. Take the length measurement of the reclined chair by first placing it in the fully reclined position. Measure the recliner from the top, back edge to the end of the footrest. Note that this measurement isn't necessary for all types of slipcovers, but it is recommended for custom slipcovers. This measurement is mainly for recliners with attached footrests.
Recliner Slipcovering Tips:

Write down measurements in both inches and centimeters. Some slipcover manufacturers display measurements in inches, while others display measurements in centimeters.

Elastic slipcovers provide more room for larger, cushioned recliner arms. These slipcovers also provide a tighter fit. Slipcovers with ties provide less room for cushions but can be adjusted for a looser fit.

If you can't find a slipcover that matches your measurements, purchase a slipcover slightly larger than your recliner. Smaller slipcovers may tear when the recliner is placed in the reclined position.

Remove any armrest covers before placing the slipcover on the chair. Otherwise, bunching may occur on the armrests.

Buy Chair Slipcovers
Back to Guides Directory