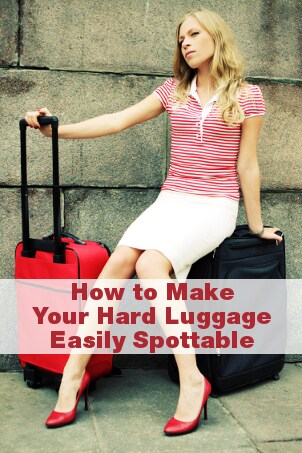 Having easy-to-see luggage makes navigating the airport so much easier. Whether you're just arriving to your travel destination or returning home from a long trip, nothing is more frustrating or panic inducing than being unable to find your own luggage at the baggage claim. This is especially true with hard-sided luggage, which is often the same shade of black, brown, or grey as the bag next to it. Thankfully, making your hardside luggage identifiable and easily spottable in the baggage carousel is a simple process. Here are some ideas on making your luggage easier to pick out of a crowd.
Making Luggage Easy to Spot:

Add colorful tape. One of the easiest ways to customize your hard luggage is to add colored tape to it. There are several ways to do this. The most common is to have a brightly colored strip of tape hanging off the handle of your suitcase. New styles of tape, like washi tape or printed duct tape, give you endless ways to mark your suitcases in a personalized way.

Use a unique luggage tag. When you see your bag coming around the baggage claim, you'll know that the suitcase with the unique luggage tag is yours immediately. Many unique luggage tags are brightly colored and elegant looking at the same time. Others have a large capital letter, your initials, or your area code. If your baggage already has a tag, consider attaching a luggage locator in the same place. Like the fob to your car, simply press the button on the luggage locator, which sends radio signals to the receiver attached to your luggage. Beeps and flashes make your luggage easily identifiable.

Add a decorative treatment to the exterior surface. A hard, smooth suitcase is the perfect place for some creative expression. A drawing made from paint pens would be a durable way to add something unique; try using stencils if you're nervous about how it will turn out. Or you could cut shapes from adhesive shelf-lining paper to make a simple but recognizable design. Vintage wallpaper or automotive pin striping tape would also be a stylish addition to your hardside luggage.

Mark the bottom of your luggage. The best method for travelers who want something more discreet is to mark the bottom of your hard luggage or suitcase, where the wheels are. A professional traveler may choose to use this method to easily spot their luggage while keeping it looking professional.

Consider buying luggage in a bright color. The baggage claim is always full of basic black luggage. Why not try something in red, blue, or green? Hard-sided luggage is available in a wide variety of colors and even in patterns, like flowers or leopard print. Something colorful might just brighten up your day.
What Do You Want to Do Next?

Shop Hardsided Luggage
Shop Luggage Sets
Shop All Luggage & Bags
See All Guides
Read More Luggage Guides
Get More Luggage Tips