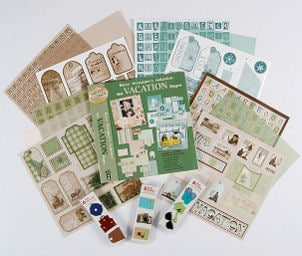 Scrapbookers have a habit of collecting scrapbooking supplies that they later find themselves using rarely, if ever. Finding innovative ways to use old scrapbooking tools, as well as making those that you use frequently last longer than usual, will save you money in the long run and allow you to extend your creativity beyond the scrapbook.
Using Scrapbooking Supplies:

Discover the numerous ways you can use each tool or supply. While your bottle of dimensional glue might specify that it's for paper, don't neglect its uses for other crafts. Play with each supply and discover its limits. For instance, use neglected paper punches to make shaped confetti for parties or favor bags or to decorate your scrapbook. Once you begin to see beyond the product's initial, advertised purpose, you may find you have more scrapbooking ideas.

Repurpose your forgotten layouts and projects into a fresh project. Many scrapbookers have abandoned scrapbook pages that are collecting dust in a drawer or on a shelf. Reclaim the supplies you used on these projects and reuse them for a new project. This allows you to recycle scrapbooking tools that would have eventually wound up in a trash bin. It also allows you to test your creativity and come up with new scrapbooking ideas when you incorporate old layouts into your projects.

Offer to swap supplies with other scrapbookers. Scrapbooking clubs, online craft forums and paper craft classes allow you access to other scrapbookers who have supplies that they no longer need, just as you have. Utilize these social communities as a way to rejuvenate your scrapbooking paper and supplies by trading your unused or slightly used items for those you can use.

Organize your supplies. Organizing your scrapbooking supplies will allow you to find exactly what you need when you need it. This will save you from buying duplicate items that you don't need simply because you couldn't locate your original tool or supply.

Lay out your pages before you begin gluing. Planning your scrapbook pages before you begin your permanent placement saves you from mistakes later that will cause you to scrap all the supplies with which you began. It will also save scrapbooking paper and ensure that you get a finished product you love.

Close all glues, pens and other supplies that can dry up or leak. Scrapbooking requires a lot of glues, inks and other consumables that you can better conserve by ensuring that the bottles are closed and caps are fitted properly. Store your scrapbooking tools carefully to ensure they will last.

Buy Scrapbooking Supplies
Back to Guides Directory