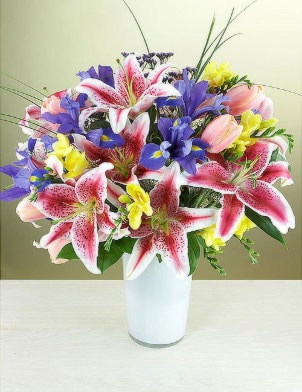 Things You Need:
Oasis foam
Bucket
Flowers
Floral tape
Plant shears
Solid vessel or vase
Fresh fruit
Bamboo skewers
Flowers can be the perfect gift for telling someone you love her or celebrating a loved one's milestone. Fresh flowers are also a beautiful, natural addition to your own home, even if there is no special occasion to mark. Making your own flower arrangements saves money and can be a relaxing way to add fragrance to your home or to give flower gifts. By using just a few items, many of which you can find at home, you can easily create simple, fresh flower arrangements that will rival costly bouquets from a floral shop.
Making Flower Arrangements:

Soak the oasis foam in a bucket of water overnight. This special florist's foam can be purchased at craft stores or nurseries. It absorbs water to keep your floral arrangements fresh.

Decide on a color scheme for your arrangement. Then, purchase some fresh flowers. Keep the color palette simple for understated elegance or use a myriad of bright colors for a cheerful flower bouquet.

Place the flowers in a bucket of water. This will keep them fresh while you work on the flower arrangements. Cut an inch from the bottom of the stem at an angle with the plant shears before you put each flower in the bucket.

Wedge the oasis foam into your container. You can use a decorative bowl, tall vase or long, shallow dish to hold fresh flower arrangements.

Wrap fragile stems in floral tape to keep blooms from drooping. This also keeps the stems from breaking when you begin flower arranging in a vase.

Stick the flower stems into the oasis foam. Space them out so that you do not crush the flowers. One easy and popular method of flower arranging is to work around the perimeter of the container, trimming stems so that each layer of flowers sits slightly higher than the one beneath it. Work through trial and error, rearranging the flower bouquet when the look is displeasing to your eye.

Use bamboo skewers to hold fruit. Stick one end of the skewer into a piece of fruit and the other end into the oasis, nestling the fruit among the flowers. This fresh, organic look is nice in the fall with gourds or in the spring with bright green apples. Use your imagination and personal style to put together floral arrangements you like.

Fill in gaps with greenery or more flowers. Display edible flower arrangements on tables, countertops or mantles and add water when the oasis feels dry. Edible flower arrangements also make great gifts for new mothers, friends who are ill or close family members.
Flower Arranging Tip:

Hydrangeas, roses, gerbera daisies, peonies and tulips are all easy flowers to work with when creating flower gifts. Seeded eucalyptus is a simple green addition, and apples or ornamental pears are hardy fruits to use in bouquets.

Buy Fresh Flowers
Back to Guides Directory