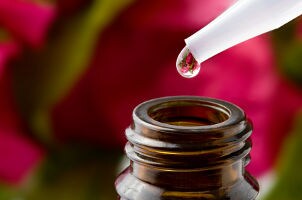 Things You Need:
Essential oils
Alcohol
Fixative
Perfume and beauty products have a very personal connection, as scent is linked with a variety of senses and parts of the brain. Perfume has been around since ancient times, when people in ancient Egypt and Mesopotamia mixed oils, flowers, spices and incense to create personal fragrances. If you want a unique fragrance or aren't satisfied with the scents you find in stores, then you can make your own signature perfume quite simply. Using aromatherapy products, you can tailor scents to your own personal preference. Once you get the hang of mixing scents, you can create any type of perfume you desire and even make fragrances to give as gifts.
Making Perfume:

Decide how strong you want your perfume to be. Perfume can be light like a body spray or heavy like fancy eau de toilette. Light sprays should contain 5 to 10 percent scented oil, and heavier perfumes should contain 15 to 30 percent. Body sprays don't always have to be light, however; just as perfumes don't always have to be heavy. The type of scent you choose and the mixture of fragrances you create will play a big part in how strong your perfume or body spray is.

Choose your essential oils. Choosing essential oils is a personal, creative part of the process. There are many different types of scents to choose from. Floral fragrances consist of a variety of pretty essential oils, from lavender to rose. Natural scents, such as wood, amber and oceanic oils, mix well with other fragrances. And gourmand or food-scented fragrances, such as vanilla, spice and even coffee and chocolate, bring a sense of warmth and richness to a perfume.

Mix your essential oils. How you mix your fragrances is also completely up to you. Some home fragrance crafters like to create perfumes with just one scent, but you can also combine several scents to add depth and individuality to your perfume. Perfumes are typically made up of top notes, middle notes and base notes. Top notes are detected first and should be sharp and fresh. Citrus is a popular top note. Middle notes are detected after the top notes and should incorporate the main scent of the perfume. Rose is a popular middle note. Base notes are detected after the middle notes and should be rich and heavy. A base note can also act as a perfume fixative. Amber is a popular base note. Although following these guidelines can help you to create a well-balanced perfume, creating perfume is not always an exact science, so feel free to experiment.

Select a container. The most popular types of containers for perfume are glass bottles with spray functions, but you can use other types of containers if you prefer. Dark containers can help to prolong the life of the perfume by keeping it protected from the sunlight.

Mix your perfume. When making perfume, it is recommended that you use 5 to 30 percent essential oils, 5 percent distilled water and 65 to 90 percent alcohol. High-proof grain alcohol and vodka are both good options. If your base note is not a natural fixative, add a couple of drops of sandalwood or vanilla to fix the scent. There are also other types of fixatives that go well with different scent combinations. Put your alcohol in your container and add your distilled water and essential oils with an eye dropper. Test your fragrance as you create it in order to balance the strength of your scents, adding more as needed.
Fragrance Tips:

Oil-based fragrances are also easy to make and have their own benefits, such as wearing differently on the skin and incorporating healing oils. Create these fragrances in a similar way using jajoba, arnica or other types of oil. Allow oil-based fragrances to become infused before wearing by letting them sit for several days after mixing.

Consider naming and labeling your perfumes in order to keep track of each scent or get them ready for gifting. Naming a perfume after the recipient is a fun option.

Buy Aromatherapy
Back to Guides Directory