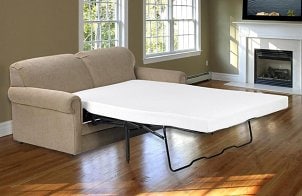 Things You Need:
Mattress cover
Sheets
Blankets
Extra cushioning
Comforter
Pillows
Vacuum with brush attachment
A convenient way to provide your overnight guests with a comfortable place to sleep is to have a pull-out sofa bed. However, if your sofa bed is old, it may be uncomfortable. With a few extra pieces of bedding and routine maintenance, a sofa bed's comfort can be greatly improved.
Improving Your Sofa Bed:

Flip the mattress. Open the sofa bed and remove the mattress from the frame. Flip it over and rotate it lengthwise. Sleeper sofa mattresses should be rotated in the same way as regular bed mattresses, around every six months, so they will wear evenly. Replace the mattress every few years if the bed is used daily.

Add extra cushioning. Purchase a mattress topper for your pull-out sofa bed. Whether you choose one made of memory foam or filled with down feathers, your guests will be grateful for the extra padding. Select the thickest cover available to add depth and comfort to the mattress while making sure you can still fold the mattress back into the sofa. If you live in a cold climate, consider adding a heated mattress pad.

Use comfortable bedding. Don't skimp on the bedding just because it's only for guests. Select sheets with a high thread count for maximum comfort and durability. Add a comforter, and keep an extra blanket available in case your guests get cold during the night; no one sleeps well with a blanket that is too small or old and thin.

Fill the gaps. Use pillows to fill the gaps between the couch arms and the bed. Use cylindrical bolsters to pad any exposed metal parts so that sleepers aren't exposed to the folding mechanism. Add bolsters to fill the gap between the top of the mattress and the back of the convertible sofa.

Wash the bedding and clean the mattress. Before you fold up the convertible sofa bed, remove the mattress topper along with the other bedding. If the topper is down-filled, fluff it in a dryer on the no-heat setting before each use. Wash the sheets and blankets after each use for occasional guests or every week for regular users. Vacuum both sides of the mattress while the bedding is washing to clean away dust, allergens, and other pests.

Buy Sofa Beds
Back to Guides Directory