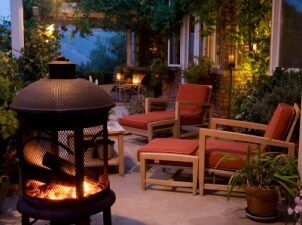 For some people, the patio isn't exactly a comfortable place of relaxation and enjoyment. When all you have is an old deck chair or a beat-up barbecue grill on your patio, you won't want to spend much time out there. Your patio could be a center for entertaining friends and family with backyard barbecues or low-key evening affairs of wine and conversation. All you need is a few design tips to make your garden or patio comfortable, inviting and fashionable.
Making Your Patio Comfortable:

Clear the area. Before you begin, sweep the area clean and clear it of any dirt or weeds. If you have any yard tools out, find a place to store them. It will be hard to relax if your rake or pruning shears are reminding you about chores. If you have been using your patio for storage, find another place for that, too, unless it adds to the feeling: Storing your surfboard on the patio may add to beach-inspired decor, but storing your recycling bins there won't add any style.

Soften the floor. An all-weather outdoor rug makes a patio seem like another room of the house. Bare feet will appreciate the layer of softness over concrete or pavers. Choose one made of polypropylene, so it will be resilient enough to put up with hot sun and rainy days.

Make some shade. Sun sail shades are a modern way to add shade to your patio. Install one if you have a wall or a fence to attach them to. If you don't have someplace to attach one or you would prefer a more traditional feeling, you'll want to take a look at patio umbrellas. Position your outdoor furniture to take advantage of the shade your umbrella provides during the day and the cozy feeling it provides after the sun goes down.

Add the seating. A patio seating set with a few chairs and a sofa creates an instant conversation area. Look for a set that includes an ottoman or two, or add one in a coordinating color, to add to the comfortable feeling. If your idea of comfort includes lounging by the pool all afternoon, your seating should include a chaise lounge chair.

Set up some tables. Add end tables to the sides of an outdoor sofa and place a coffee table in front of it. A coffee table in the center of a grouping of four chairs will also bring the seating area together and give everyone a spot to place a drink. To determine the best placement, sit in the chair and test out how far you would have to reach to grab a drink or plate from the table.

Light it up. Take the patio from day to night with string lights, LED lights, solar lights or lanterns. Outdoor lanterns and lights add the right mood to nighttime parties. Wrap string lights along the ribs of the patio umbrella or hang solar lanterns from hooks around the patio. Add a soft glow to your garden lighting with candles. Some outdoor candles even repel pestering insects.

Finish with warmth. Add an outdoor fireplace or chiminea to your design for warmth on chilly evenings. Position the outdoor fireplace so that it becomes a focus of the patio; seats and tables may have to be adjusted to accommodate it, but just think of how cozy it will be when the sun goes down and you can sit with friends, drinking wine and enjoying the dancing flames.

Buy Garden and Patio
Back to Guides Directory