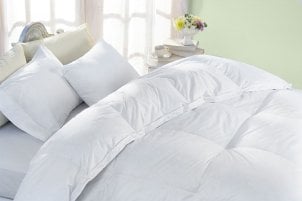 Things You Need:
Flat sheet
Fitted sheet
Pillow cases
Pillows
Comforter or duvet
Having a well-made bed not only makes it easier to keep bedding clean, but it also cuts down on the amount of allergens that are brought into the bed. The aesthetic benefits of a well-made bed are also important. By properly making a bed, you're putting the finishing touch on a clean bedroom. Take a look at this article to learn how to make a bed.
Making a Bed:

Pull the soiled linens from the bed. Remove the fitted sheet, flat sheet, comforter, duvet and bed skirt. Wash and dry the bedding according to the manufacturer's directions. Keep fabric softeners to a minimum if you have sensitive sleepers in the house.

Apply the fitted sheet. Anchor the clean fitted sheet around the corners of the mattress. If you're using deep-pocket sheets, which are designed for thicker-than-standard mattresses, such as pillow tops, it helps to have two people do this. Each person will fit the sheet to a corner of the mattress at the foot of the bed. Once these are secure, the head of the bed can be anchored.

Lay the flat sheet evenly over the mattress. The long ends of the sheet should fall just below the edge of the mattress. Lift the end of the mattress at the foot of the bed and tuck the flat sheet underneath. To make "hospital corners," stand at the right side of the bed near the foot. Then, pull the edge of the sheet up diagonally across the bed with your right hand. With the left hand, tuck the loose edge of the sheet under the mattress. Then bring the sheet section in your right hand to the side of the bed and tuck it under. It should make a diagonal crease on the side of the mattress. Repeat on the other side.

Apply the comforter or duvet. Lay the comforter or duvet cover over the flat sheet, and make sure that the sides drape evenly over the side of the bed. The bit hanging over the footboard should be level, as should each side. Pull this taught to ensure that the surface of the bed is pulled tightly and wrinkle-free. The top of the comforter or duvet should be even with the top of the mattress, and none of the flat sheet or other bedding should be visible.

Cover pillows. Cover your pillows with pillow cases, and fluff them by thumping gently on each short edge of the pillow. Fold the top layer of bedding down toward the end of the bed, ensuring that it's even all the way across and pulled taut. Place the pillows on the top sheet and unfold the comforter or duvet cover back over the pillows, covering them.

Buy Bedding
Back to Guides Directory