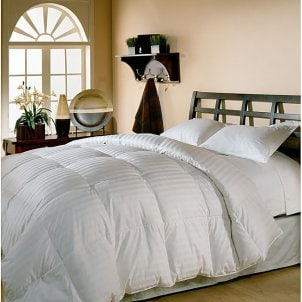 Things You Need:
Bed
Steam cleaner
Mattress topper
Flat sheet and fitted sheet
Comforter, duvet or bedspread
Pillows
A great night's rest is one of the best ways to have a great day, which is why your bedroom furniture is so important. Ensuring the comfort of your bed is a simple process, so there should be no excuse for restless nights. Take a look below to learn how to make a bed more comfortable.
Make Your Bed Comfortable:

Ensure cleanliness. If your mattress is dirty, you'll want to start by cleaning it. Beat out dust and use a steam cleaner if necessary.

Top it off. Adding a mattress topper to your bed is the easiest way to comfort. There are a variety of mattress toppers to choose from, including toppers made from memory foam. Mattress toppers let you adjust the firmness of your bed and can considerably increase the quality of your sleep.

Cover it up. Dress your bed with the sheets and covers of your choice. Surrounding yourself with soft, weather-appropriate fabrics will drastically improve the comfort level of your sleep.

Add pillows. Find pillows that are the right level of firmness for your comfort and use them as the final touch on your bed.

Buy Beds
Back to Guides Directory