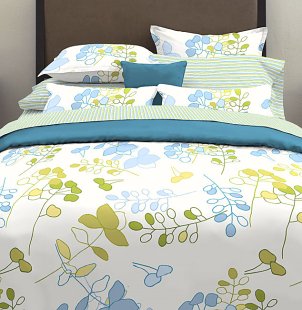 One of the best things about duvet covers is that they allow you to keep your duvets fresh and clean without much fuss. Of course, the covers need some maintenance, and the more luxurious they are, the more careful you may need to be. Fortunately, keeping them clean and feeling great isn't difficult. Here's how to maintain your luxury duvet covers.
Maintaining Luxury Duvet Covers:

Change them often: The first step you can take in making sure your luxury duvet cover looks and feels new over a long period of time is to have extras on hand. By keeping several handy, you will be able to rotate them periodically. Rotating your duvet covers will keep each one from wearing out too quickly. Plus, if you like to keep your bedroom's style fresh, you'll be able to change designs, colors, and patterns for every season.

Figure out the fabric: Luxury duvet covers are available in a wide variety of fabrics, so it's important to determine what yours are made of before washing them. Most cotton and cotton blend fabrics are easy to clean and can be thrown in your washing machine with other laundry and dried normally, while others require a more delicate touch. Silk or linen duvet covers may even need the special attention of a dry cleaner.

Look at the tag: Although knowing the type of fabric your duvet covers are made of can be an easy way to determine how to wash them, it's smart to always check their tags to make sure they don't require any extra special care.

Air them out: One easy way to keep duvet covers feeling and smelling fresh is to air them out. If you have a clothesline, hang your duvet covers up for a couple hours in the sun. The fresh air will help eliminate scents and odors, as well as dust and dander. If you don't have a clothesline, consider hanging your duvet covers over a balcony railing or fence.

Store them properly: If you have spare duvet covers, you'll want to make sure the ones you aren't using are being stored well. Launder them before storing them, and make sure they are completely dry before folding them up. Keep them folded on a shelf in a closet, in a storage bin under your bed, or in a storage bench at the foot of your bed. A more delicate fabric can be hung over a sturdy clothes hanger at the back of a closet. If you're worried that your duvet covers might smell musty after being in storage, try placing a scented dryer sheet inside the folded cover to maintain a fresh scent.
What Do You Want to Do Next?

Shop for Duvet Covers
Shop for Fashion Bedding
See All Bedding
See All Guides
Read More Bedding Guides
Learn More about Comforters