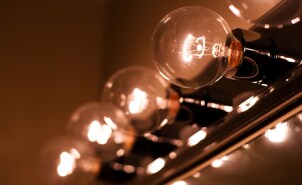 Properly lighting a bathroom mirror is important because the bathroom mirror is the place where most people get ready in the morning. Particularly for women who wear make-up, the correct lighting helps to prevent application blunders that can appear too severe in daylight or under florescent workplace lighting. Although choosing the appropriate bathroom lighting to surround your mirror is not difficult, it is an element you should plan carefully to help flatter the space as well as your appearance.
Instructions:

Design and decor. Determine what style your bathroom design and decor reflect. Your light fixtures will look best when they complement the other fixtures in the room. For example, if you have an old iron claw-foot tub, a chandelier or pendant light looks stunning, but if your bathroom features a stone walk-in shower, something more modern would be appropriate.

Frame your face with light. A bathroom mirror framed with lights is ideal for putting on make-up, which is why old Hollywood dressing rooms showcased big lighted mirrors. You can recreate this effect in your bathroom by adding vanity lighting above the mirror as well as along the sides. If vanity lights are not your style, light sconces installed along the sides of your bathroom mirror are a good alternative. The ideal placement for side mirror lighting is a width of 30 inches apart and a height of about 66 inches above the floor. This placement helps prevent shadows on your face.

Form and function. If facial lighting is your primary concern, choose light fixtures with translucent globes or shades to avoid the harsh glare of clear globes or the shadowy effects of opaque globes. If your primary concern is lighting design, fixtures with clear or opaque globes work well from a style standpoint. The best bulbs for lighting a bathroom mirror are typically either cool white or incandescent bulbs. Compact florescent bulbs also work well, and they save money and energy.

Extras. Adding a dimmer switch to the lights around your bathroom mirror is a great idea. A dimmer switch will allow you to adjust the light levels to preview how you will look in different settings, which can be especially helpful when you are preparing to go out for the evening.

Professional or DIY Installation. Install the lights yourself by carefully following all the manufacturer's instructions and safety recommendations. If you are adding lights to an area where the wiring is not already present, you may want to hire a professional to do the installation.

View All Bathroom Lighting
Back to Guides Directory